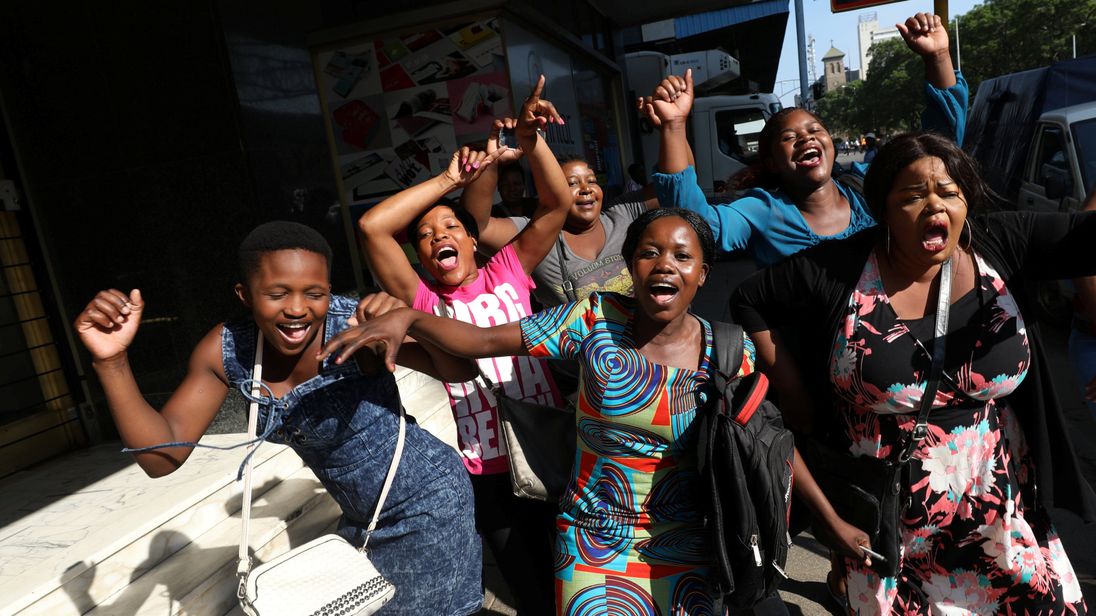 Zimbabwe's former vice president is due to return home to be sworn in as president after the resignation of Robert Mugabe.
Emmerson Mnangagwa was sacked two weeks ago by Mr Mugabe – a move that plunged the country into a political crisis and eventually led to the dictator's resignation after 37 years in power.
One of Mr Mnangagwa's assistants, Larry Mavhima said: "Comrade Mnangagwa is coming back today."
He was expected to land in Zimbabwe at 4pm UK time and be sworn in on Friday, according to the country's state broadcaster.
Wild celebrations continued on the streets of Zimbabwe overnight, with people dancing and singing following Mr Mugabe's departure.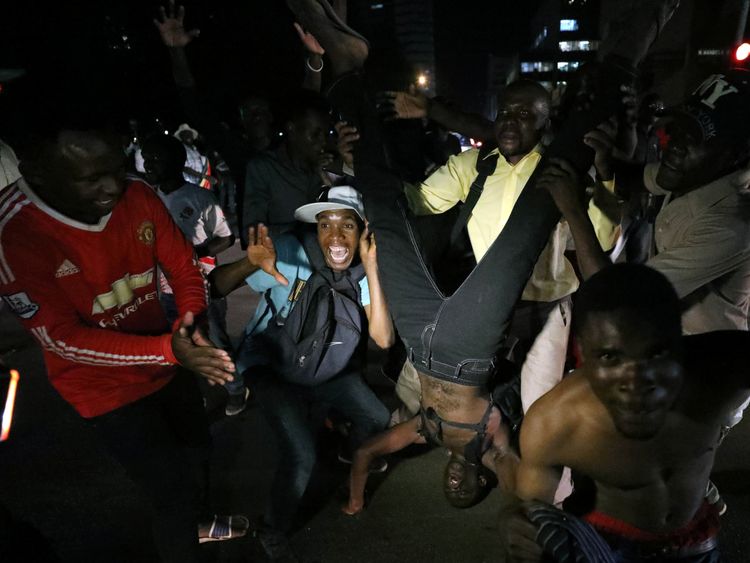 "This is the best day of my life," said one man, as people celebrated on cars and crowded round tanks to shake hands with the soldiers lauded for their role in getting rid of the reviled leader.
"We didn't fight the 1980 war but we fought the 2017 war and we are happy that Mugabe is gone and he's gone for good. Happy new Zimbabwe," said another Harare resident.
Zimbabweans in other countries also celebrated the downfall of their long-time leader.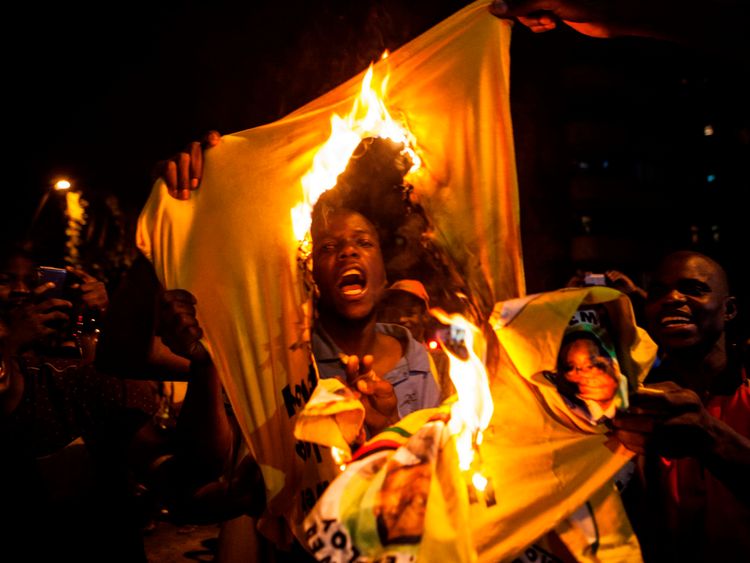 A crowd gathered outside the country's embassy in London, with people jumping up and down, waving flags and talking of "national joy" and a new hope.
Zimbabweans living in South Africa took to the streets of Johannesburg and some were pictured burning shirts of the ruling ZANU-PF party.
Mr Mugabe announced his resignation with immediate effect on Tuesday afternoon.
The 93-year-old said he had chosen to step down "to ensure a smooth, peaceful and non-violent transfer of power", and that he had made the decision voluntarily.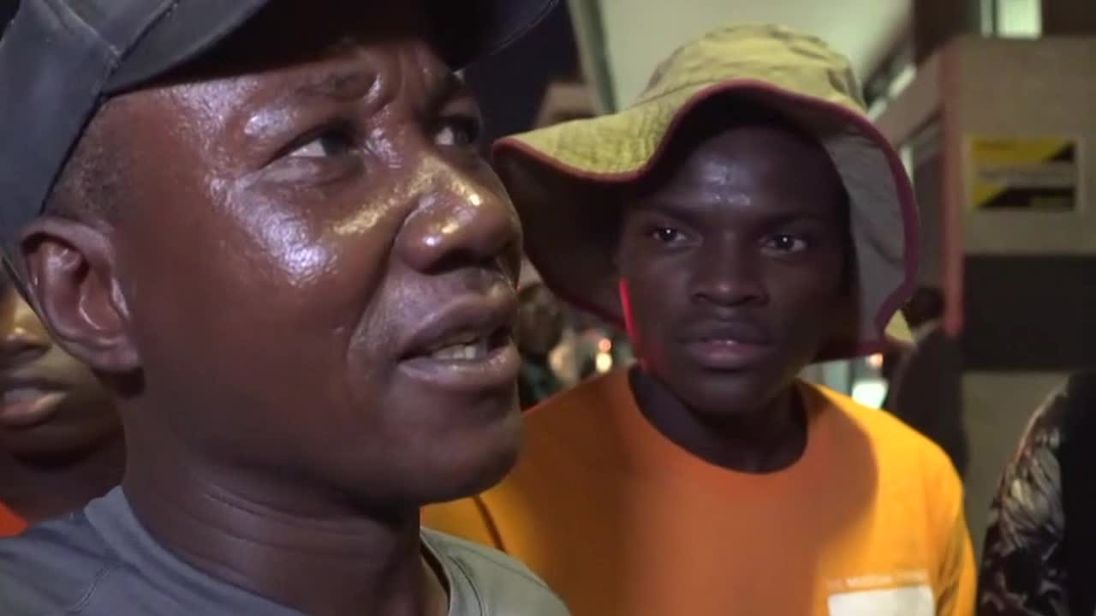 The African Union (AU) also welcomed the decision, saying the people had expressed their will for a "peaceful transfer of power."
AU commission chairperson Moussa Faki Mahamat said he welcomed "the decision by President Robert Mugabe to step down from his position as Head of State following a lifetime of service to the Zimbabwean nation".
US secretary of state Rex Tillerson said Zimbabwe had "an extraordinary opportunity to set itself on a new path", while British PM Theresa May said it could "forge a new path free of the oppression that characterised (Mugabe's) rule".
Mr Mnangagwa told NewsDay: "I want to congratulate the people of Zimbabwe on reaching this historic moment.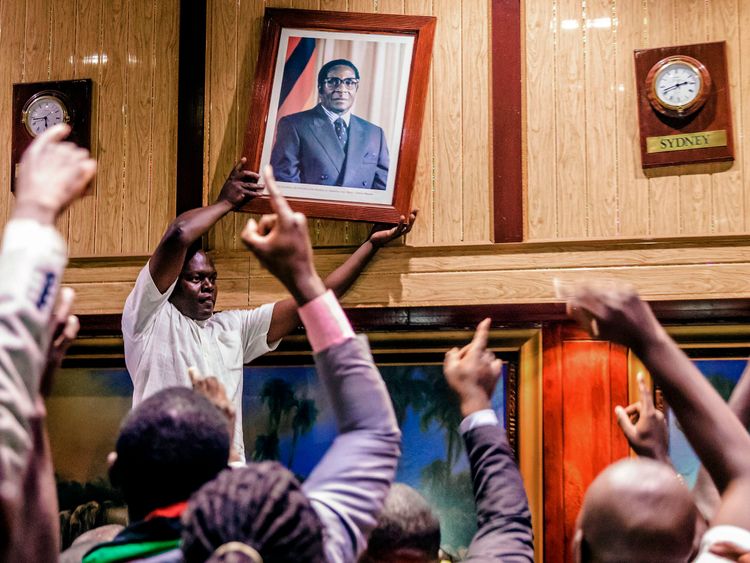 "Together, we will ensure a peaceful transition to the consolidation of our democracy, and bring in a fresh start for all Zimbabweans and foster peace and unity."
Earlier this month, Mr Mugabe sparked the political crisis which ended his dictatorship by sacking Mr Mnangagwa – paving the way for his wife Grace to succeed him.
Military chiefs reacted by taking control of the capital, seizing the state broadcaster and placing Mr Mugabe under house arrest.
The ruler initially refused to stand down and told Zimbabweans in a televised address they must "learn to forgive".
Image:2017: With his time in office drawing to a close, Mr Mugabe was seen negotiating with generals. Pic: Herald newspaper

Image:1980: Mr Mugabe and then UK prime minister Margaret Thatcher meet the year Rhodesia became Zimbabwe

Image:1979: Robert Mugabe and the Zimbabwe African People's Union (ZAPU) leader Joshua Nkomo at the Lancaster House talks that led to the end of colonial rule

Image:1980: Mr Mugabe, then newly elected as Prime Minister of Zimbabwe, holds a press conference in his garden

Image:1982: Mr Mugabe visited the Queen at Buckingham Palace with his first wife, Sally

Image:1984: Mr Mugabe addressing a crowd at Harare stadium – a year after suppressing an armed rebellion in Ndebeleland

Image:1984: He was awarded Doctor Honoris Causa at the University of Harare, an institution he would later be chancellor of

Image:1986: Mr Mugabe leaves the scene of the African National Congress (ANC) offices that were bombed days earlier by a South African commando

Image:1986: Cuban president Fidel Castro (C) shares a laugh with Zimbabwean president Canaan Banana (R) and then prime minister Mr Mugabe (L)

Image:1988: Mr Mugabe speaks to the press at the United Nations, about the Africa Prize for Leadership

Image:1993: Chinese president Jiang Zemin (L) welcomes Mr Mugabe (R) with a Chinese honour guard during a welcoming ceremony outside the Great Hall of the People in Beijing

Image:1996: Robert and Grace Mugabe married in a ceremony attended by 6,000 guests

Image:The couple became known for their outfits. She was nicknamed 'First Shopper' and 'Gucci Grace'

Image:2005: Mr Mugabe was sometimes seen asleep in public in later years, such as here at an African Union meeting, but friends insisted he remained sharp of mind

Image:Mr Mugabe addresses a rally in Sanyati, November 2005, on the eve of the senatorial elections

Image:2017: With his time in office drawing to a close, Mr Mugabe was seen negotiating with generals. Pic: Herald newspaper

Image:1980: Mr Mugabe and then UK prime minister Margaret Thatcher meet the year Rhodesia became Zimbabwe
But he was forced to face impeachment proceedings amid claims he allowed his wife "to usurp constitutional power" and had been seen "sleeping in cabinet and international meetings" – bringing "horror and shame" to Zimbabweans.
It is not clear what Robert and Grace Mugabe will do now.
Mr Mugabe had ruled Zimbabwe since 1980 and his departure leaves the Queen as the world's oldest head of state.
Under his presidency, the southern African country's economy collapsed and unemployment rose to more than 90%.
The 93-year-old has been accused of a range of human rights abuses, including denying food aid to areas supporting the opposition.
Post published in:
Featured