Zimbabwe's long-time leader Robert Mugabe will be "left in peace" with a "lucrative" retirement package, his successor Emmerson Mnangagwa has said.
However, Mr Mnangagwa also told the BBC's Mishal Husain that no-one had been granted immunity from prosecution.
Many Zimbabweans are hoping Mr Mugabe and his family, who became known for their extravagant lifestyles, would be held to account for their actions.
Mr Mugabe was ousted in November following 37 years in power.
In that time, Zimbabwe fell from being known as the breadbasket of Africa to a country which struggled to feed its population. Meanwhile, Mr Mugabe's wife became known as "Gucci Grace" for her love of luxury goods.
Mr Mugabe and his members of his government, including Mr Mnangagwa, have also been accused of widespread human rights abuses, including killing, beating and raping opposition activists. They have denied any wrongdoing.
Mr Mnangagwa, a former ally of Mr Mugabe who fell from favour before returning to Zimbabwe to become its president two months ago, has promised to clean up corruption within the ruling class.
However, while he told the BBC he had "not given anyone any immunity", he added: "The new administration will do everything possible to make sure the family lives in peace, undisturbed."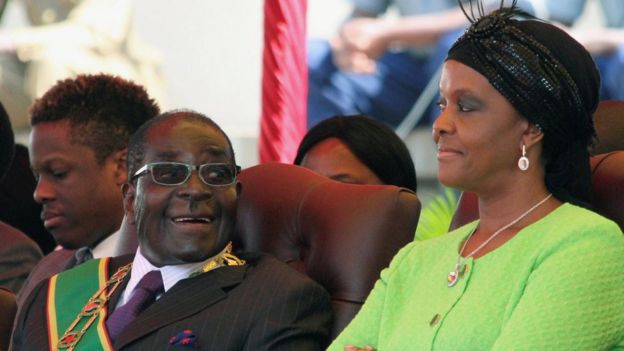 The president said his predecessor had been given "a very lucrative package", which included many of the luxuries Mr Mugabe had become used to – including cars, secretaries, first-class travel and trips to Singapore, where he sees doctors.
Mr Mnangagwa would not be drawn on the cost of the package, which had a rumoured value of $10m (£7m).
A looming vote
The new president is hoping this tough stance on corruption and focus on reviving the economy will help him stave off defeat in this year's elections.
However, he was adamant he and the ruling Zanu-PF party would accept the result whatever the outcome.
"If we lose elections, that's it," he said. "Whichever party wins the election will proceed to take the reins of power."
Mr Mnangagwa reiterated his pledge for "free, fair and transparent elections", saying he would work with Zimbabwe's other political leaders to ensure the vote was free of violence.
Mr Mnangagwa, who has been accused of organising the violence which has blighted some of Zimbabwe's previous elections, said the vote would be held before July.
Golf diplomacy for Trump
The interview took place at the World Economic Forum in Davos, Switzerland, where Mr Mnangagwa has travelled to spread the message that "Zimbabwe is open for business".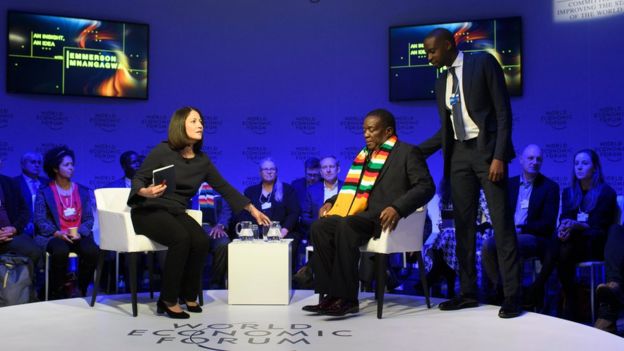 He also said he would be willing to work with US President Donald Trump, who was roundly criticised for labelling African countries "shitholes" earlier this month.
Mr Trump has denied using those words.
"There should not be an enemy I cannot talk to," he said. "It is a question of international relations. If he came here, I would be able to talk to him.
"I know Americans like to play golf, and I would say come and build golf courses at Victoria Falls."
Mr Trump is known to be a passionate golfer.
No apology for Matabeleland massacres
The president also revealed he had signed a "national healing and reconciliation bill" into law, which would deal with the killings in the western region of Matabeleland that occurred in the 1980s while he was minister for national security.
An estimated 20,000 people died during the security crackdown – a figure he denied.
They were mostly ethnic Ndebeles, accused of backing Mr Mugabe's rival, Joshua Nkomo.
The law provides for a commission which, he said, would allow "the communities that were affected [to] air their grievances". He also said he would attend the hearings if that was what the communities wanted.
However, he would not directly apologise to the families for the killings.
"Wherever wrong is committed, the government of the day must apologise," he said.
He added: "The most important things is what has happened has happened. What can we do about the past? We have put up a commission to deal with that issue. That should not stop us having a better future."
His responses were carefully crafted. Zimbabwe's President Emmerson Mnangagwa on his first trip to Europe since taking power two months ago. He was eager to convince the world business and political leaders that Zimbabwe has changed.
He says Zimbabwe is open to everyone for business. Some here believe his represented Zimbabwe well. Others say he now needs to take the next step and turn the rhetoric into action.
Zimbabweans are divided in their opinion of this President Mnangagwa.
They have welcomed the government's tough stance on corruption. Senior officials have been given a five-week window to declare their assets. Many are hoping this signifies the beginning of the journey to make Zimbabwe great again.
Post published in:
Business