Sixty-four-year old Ruth knows life isn't easy. But it wasn't always so challenging. In her village in southern Zimbabwe, she and her family have faced hard times and got by before, growing and selling vegetables on their small farm.
But now things are different. The rains have failed year after year. Their wells and dams have dried up and they can no longer water their crops. Every day the family must walk three kilometres to a well, where they don't know if the water is safe to drink.
Back in the days, we used to start planting in early November. In the past two years we tried to plant in early December but by early March the plants die. That's when I noticed the climate changing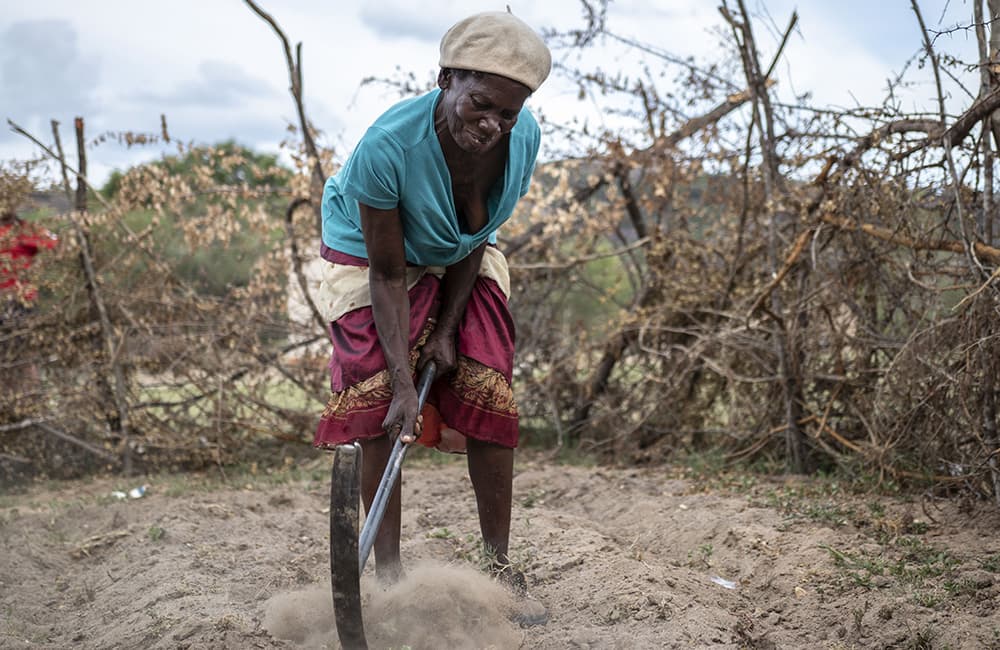 Ruth attempts to grow vegetables in drought-stricken Zimbabwe.
Photo: Sacha Myers/Save the Children
It's the children who suffer
Ruth lives with her husband, her grandson and granddaughter-in-law Michelle and their nine-month-old son Junior, as well as two other grandchildren, who are attending school. They've had to put themselves on a strict ration of two meals a day, but it often isn't enough to satisfy the children's hunger. Nor is it enough to keep them healthy and developing as children should.
The main challenge is with the small kids because they cry when hungry. It affects the children's health because they don't know how to adapt [to the change in our diet].
The health of the children, especially baby Junior, is a constant source of stress for the family, especially his mother Michelle.
"I was pained when I found out he was underweight. I couldn't sleep. I wasn't expecting my child to be underweight because I was breastfeeding him. The nurses said the child was underweight because he wasn't having enough food and they recommended I give him porridge with peanut butter."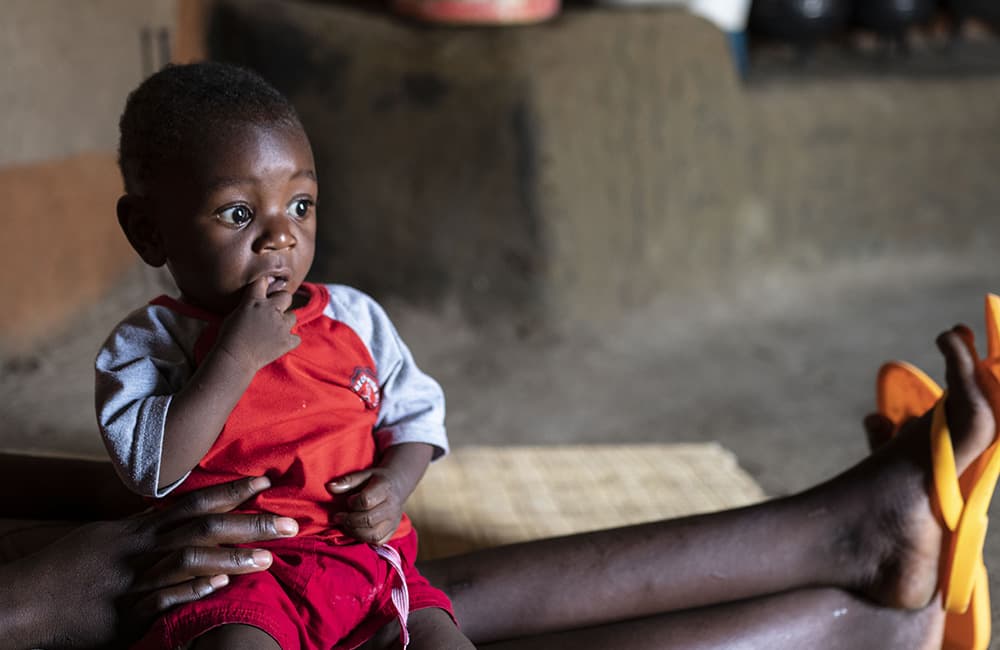 Nine-month-old Junior is malnourished for his age, but is getting the help he needs.
Photo: Sacha Myers/Save the Children
How supporters are helping them survive
Generous Save the Children donors are supporting these families in Zimbabwe hardest hit by the drought to get them through the lean season.
Ruth receives $51 USD each month to buy food and other essential items for her extended family. She says the cash grant is the only thing helping her family to survive. It's helping them buy supplies for Junior so he can put on weight and develop into healthy toddlerhood.
In respect of food availability, it's really bad. If it wasn't for Save the Children there would be no souls surviving here. When I receive the money, I buy what is important. We buy salt, sugar, cooking oil, maize meal and soap. When the money comes through we buy Junior peanut butter but if we run out of money we just give him what we have.
What's next for Ruth?
Ruth knows what is happening is not normal. And she fears things will get worse before they get better.
What is happening now has never happened before. In 1992 we had a drought, but it was only for a year. This time it's been more than two years. From the looks of things in the coming years we're not going to receive any rainfall and we're not going to have any water for drinking.
The assistance from Save the Children's supporters is the only thing keeping the family afloat now. But there's more to do in Ruth's village.
Save the Children is currently scaling up its emergency response to help the most vulnerable children and their families in Zimbabwe. Our interventions will focus on food security, health, nutrition, education and child protection. We have deployed our Emergency Health Unit to set-up emergency health, nutrition and water, sanitation and hygiene programs to improve access to basic health and nutrition services and reduce the risk of disease outbreaks.
Post published in:
Agriculture