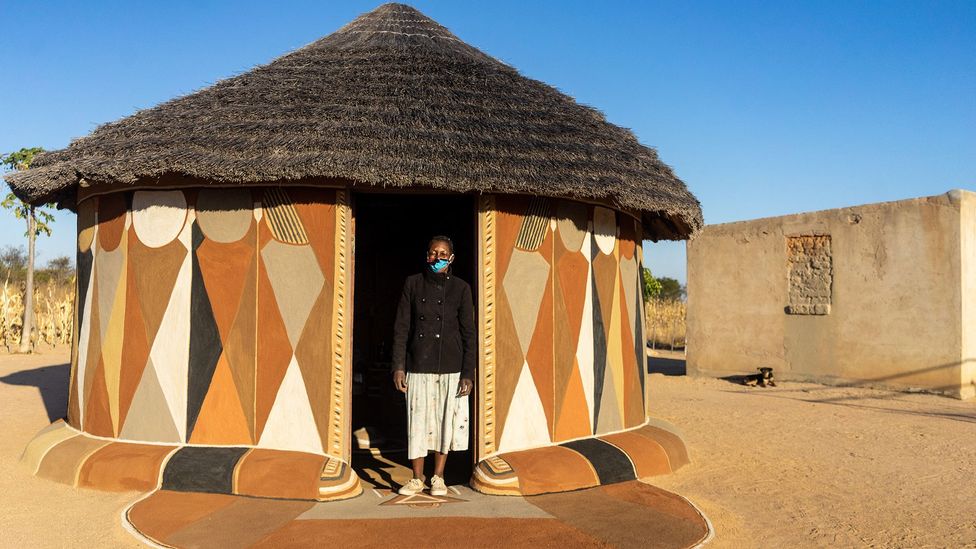 (Image credit: Zinyange Auntony)
Peggy Masuku put the finishing touches on the welcome sign to her homestead in south-western Zimbabwe's Matobo district. She surveyed her handiwork, six months of designing and painting her huts in anticipation of an annual competition, My Beautiful Home, which recognises the most beautiful traditionally decorated homes in the district.
It was a one-woman effort – with some with some constructive criticism from her husband – to decorate the homestead's huts in patterns of brown, black, red and grey. Adorned, they stood out among the orange and lemon trees and the rock garden dotted with native aloes and cactus plants.
In Ndebele culture, hut decoration is solely a women's duty and the secrets of the traditional patterns and the making of natural paints have been passed from one generation to the next for hundreds of years. As a young girl, Masuku learnt how to design patterns and paint huts from her mother. Now she only designs what she feels. "I listen to the walls as I work and I feel like they tell me what sort of shape I must put," she said. "There's a feeling you get when you create art and that's what guides me as I put designs on the walls."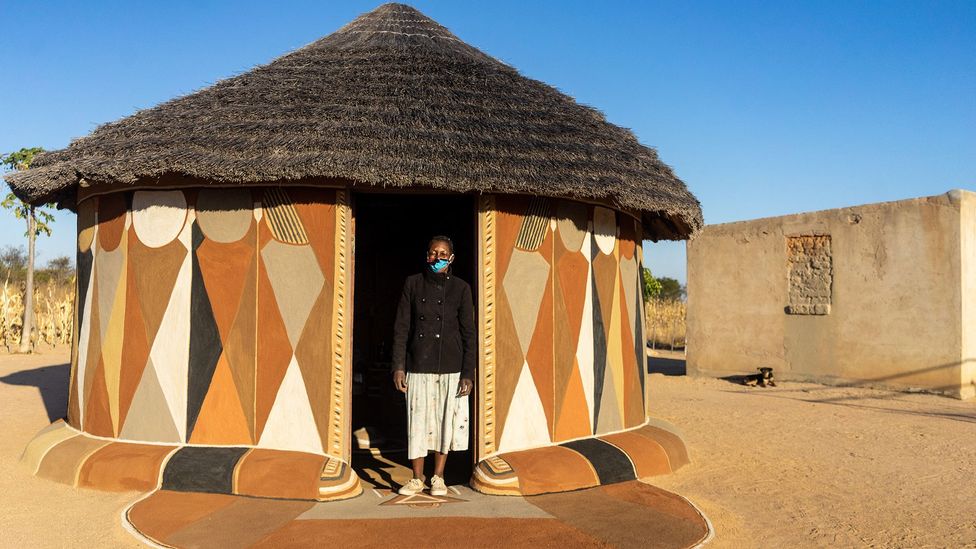 Masuku's designs have earned her two wins in the My Beautiful Home contest, in 2018 and 2019 (Credit: Zinyange Auntony)
The My Beautiful Home awards started in 2014 with just 30 entrants. When the competition began, its purpose was to document and preserve the local Ndebele tribe's tradition of painting homes. In recent years, the contest has attracted attention well beyond Matobo, drawing judges, sponsors and cultural enthusiasts from elsewhere in Zimbabwe and from other countries.
Originally from present-day South Africa, the Ndebele fled 19th-Century Zulu wars and settled in present-day Zimbabwe in the 1830s, bringing with them the tradition of exterior hut-painting in geometric designs using earth-toned natural dyes. Over time, the designs have come to incorporate patterns from other cultures, and the creativity of the hut-painters has evolved to include wild animals, flowers and people. Interior painting, which has become part of the culture of beautifying the home, is a tradition borrowed from the local Shona people.
Throughout the Matobo Hills, art is woven into life. The landscape is studded with massive granite boulders, some of which create caves that shelter ancient paintings. Believed to have one of southern Africa's largest concentration of rock art, the caves of the Matobo Hills are adorned with images up to 12,000 years old.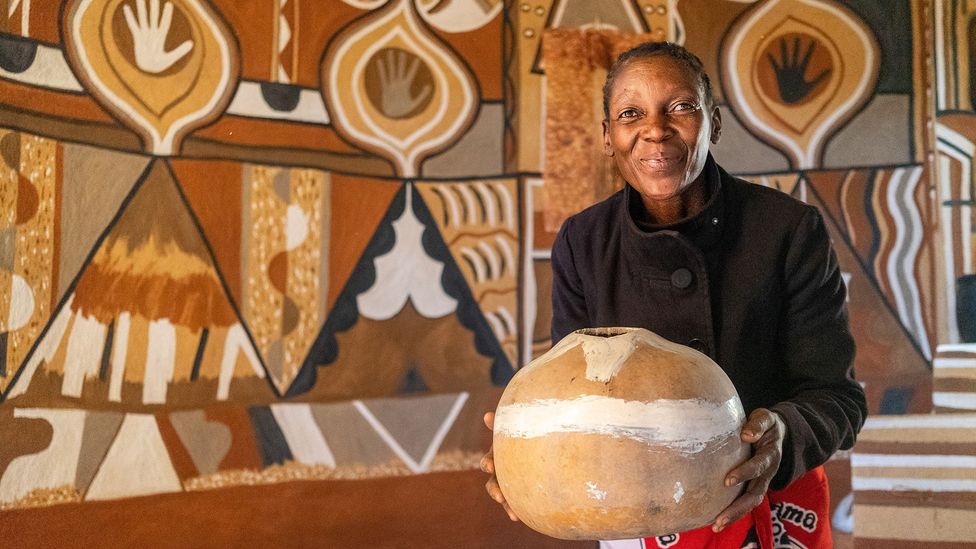 "I listen to the walls as I work and I feel like they tell me what sort of shape I must put," said Masuku (Credit: Zinyange Auntony)
When it's time to paint, Masuku seeks her raw materials from surrounding nature. In Masuku's village of Mafela, anthills are a common sight and she uses the greyish soil from the anthill domes to make her grey and white paints. She also uses ash and charcoal residue from fires to create black and white. The reds and browns come from red clay soil, but she has to travel long distances with her wheelbarrow in search of good quality soil and water. She does it all herself; her husband is severely asthmatic so he can't help with the sourcing or making of the mud dyes.
Masuku begins painting during the dry season which normally runs from March to October. "It takes me a long time to finish decorating because I have to do so many other duties at home, I have to cook daily, [and] during the harvest season there are crops to be picked. When I have time, I go into the bush to look for the different soils. I have to bake some of the soils so I get the specific colour I want," she explained.
She daubs her paints onto the walls using old socks and netting fabric. The geometric patterns she paints reflect traditional Ndebele art. Masuku's designs have earned her two wins in the My Beautiful Home contest, in 2018 and 2019.
Matobo has one of Southern Africa's largest concentration of rock art, with paintings up to 12,000 years old (Credit: brytta/Getty Images)
According to the founder of the competition, Pathisa Nyathi, a local historian and director of local community arts centre, the Amagugu Heritage Center, the geometric patterns, especially the circular forms, have a deeper symbolism.
"The round shape represents the contour of the Earth, Sun, Moon and any other planets. Everything the Africans built in medieval times were round in shape, be it their houses, kraals [enclosure or group of houses around an enclosure], shields or pots… Old Bulawayo grass huts are all in a circular shape," he said.
This year, Masuku is expanding her efforts. She has extended her decor to the outside eating area and is experimenting with new styles such as drawing hands and flowers in the kitchen. When Masuku first entered in 2018, she took it as an opportunity to exhibit her skill in making dresses using organic materials. Her works have included a strapless dress made from the leaves of corn cobs, shoes sequined with pumpkin seeds and a necklace made from the seeds of wild trees.
"I spent three nights sewing the first one with my machine. I don't know if I'll make something else this year, but making clothes from natural [and] free things are my favourite designs," she explained.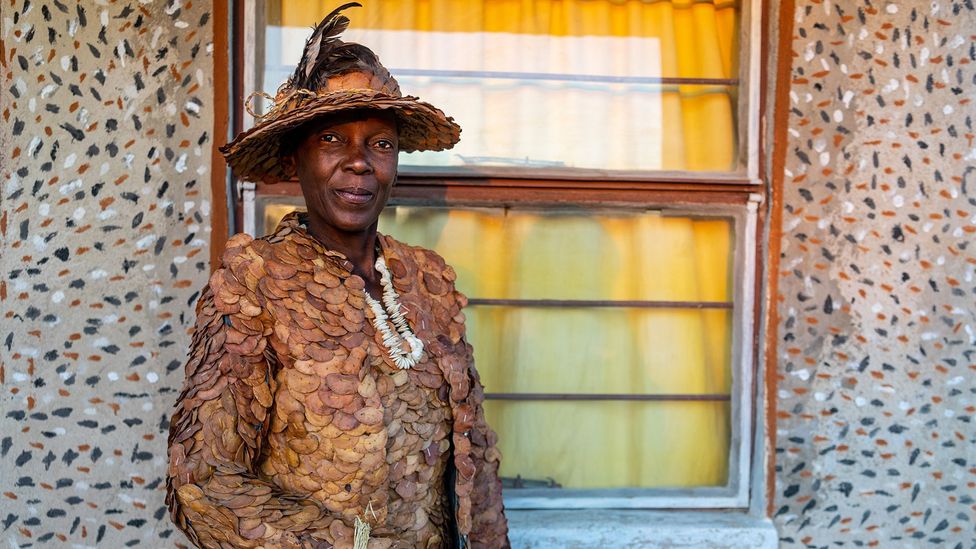 In addition to painting, Masuku also exhibits her skills making clothing using organic materials (Credit: Zinyange Auntony)
Each year in August, hundreds of women enter the contest supported by Ekhaya Gaia, a local NGO supporting sustainable communities, to showcase their adorned homes. Prizes include farming and water implements such as ploughs, wheelbarrows and water storage tanks. For each of her wins, Masuku was awarded a water tank, which she uses to harvest and store rainwater to get through the dry months of the year.
After months of painting, the results fade quickly. Each year, the elaborate decorations are washed away with the coming of the rains in October. It's a loss but also a welcome end to the dry season. And it offers these house artists a fresh canvas for the next year.
For now, not many tourists are visiting the Matobo Hills for hiking, bird watching or to admire the painted homes due to lockdown travel restrictions. But to Masuku, this remains a special place. "When I'm here I don't have to worry, I breathe the fresh air and it brings me back to my inner centre, where I should be," she said.
The traditions celebrated by the My Beautiful Home contest are specific to the region, but their spirit is universal. "I hope that other people around Zimbabwe will be inspired to decorate their homes," she said, "and to make their homes into something they love."
Post published in:
Arts