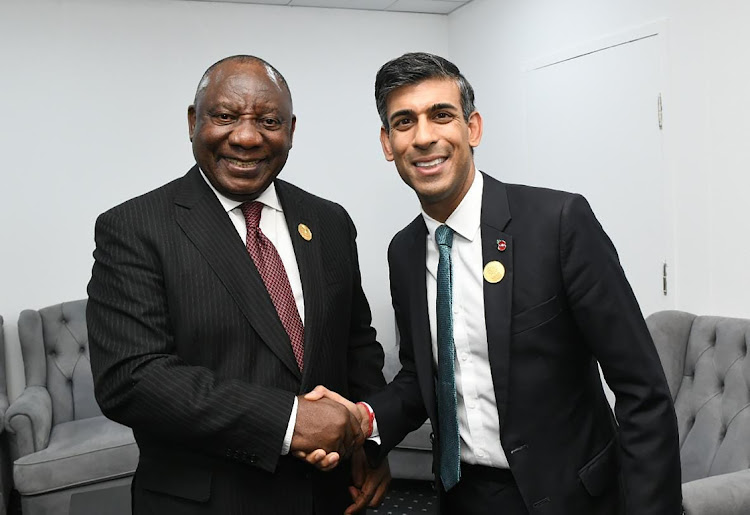 High profile … President Cyril Ramaphosa is set to meet UK Prime Minister Rishi Sunak during a state visit to London
JOHANNESBURG, South Africa – South African President Cyril Ramaphosa, keen to find a lasting solution to the influx of undocumented Zimbabweans into his country, meets newly appointed UK Prime Minister Rishi Sunak this week, key on his agenda to persuade him to have sanctions imposed on Zimbabwe lifted.
Ramaphosa is set for a state visit to London this week.
His special adviser on international relations Maropene Ramokgopa, told South African media that part of Ramaphosa's agenda with the new British premier were Zimbabwe's general elections in 2023.
"They (sanctions) are affecting SA in a very difficult way. The reason there is a lot of migration from Zimbabwe is because people are running away from economic hardships. It's not because they want to leave home, and the sanctions are not assisting in any way. So we'd like them to look at it differently," she said.
Britain and the European Union slapped Zimbabwe with sanctions it targeted on then President Robert Mugabe, his inner circle and some associated firms accused of abetting rampant rights abuses in the country.
The Mugabe regime was also accused of poll fraud and high level corruption by government officials who went unpunished for the crimes.
The former colonial master has set conditions for the lifting of the measures, among them, a return to proper democratic systems by the Zanu PF led government and a stop in the persecution of political opponents.
In September this year, Ramaphosa met US President Joe Biden to impress upon him to lift sanctions imposed against Zimbabwe by the super power in 2001.
South Africa, which shares a border with Zimbabwe, carries the burden of its neighbour's economic ruin with a recent Zimbabwe National Statistics Agency report placing the number of Zimbabwean migrants living in its territory at 773,246.
They make up a huge chuck of Zimbabwe's 908,913 diaspora community spread mostly in the industrialised neighbour, Botswana and UK.
The influx of Zimbabweans many of whom are into menial jobs in South Africa has unsettled locals who accuse migrants of stealing their jobs.
A South African medical executive was recently filmed in Limpopo shouting down a Zimbabwean patient for crossing into the neighbouring countries to compete for medical resources with locals.
Post published in:
Africa News