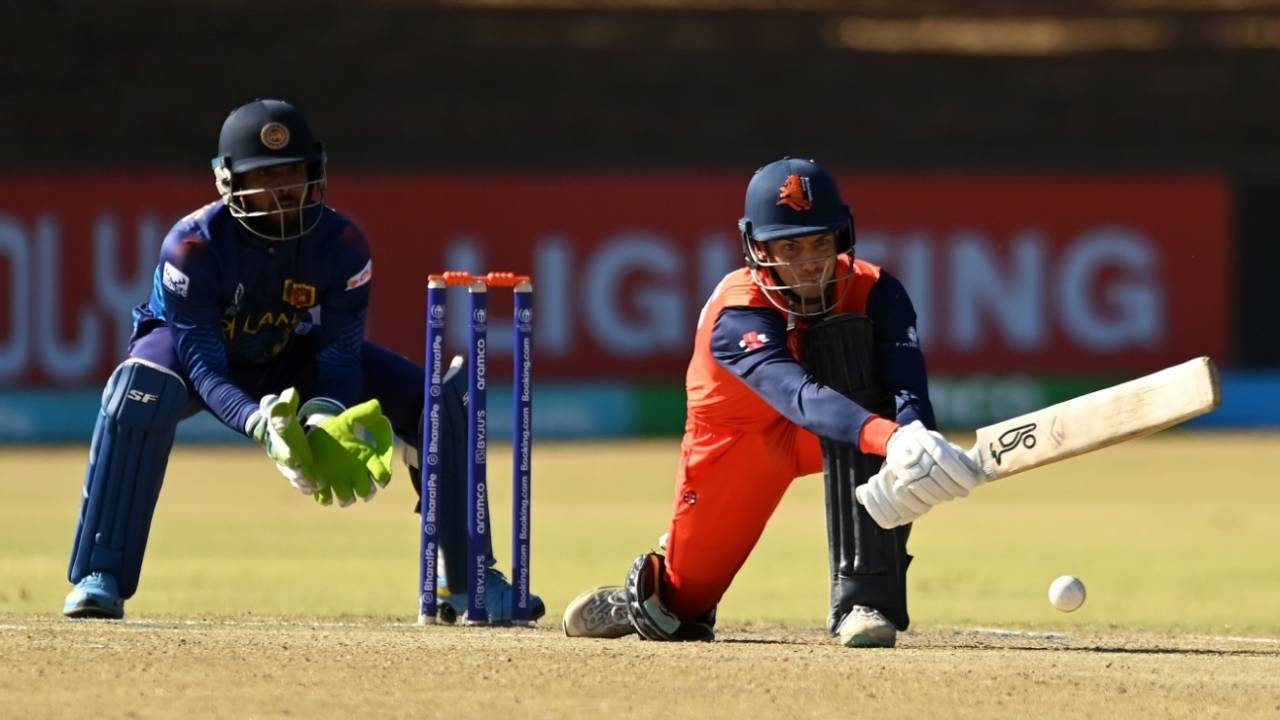 The defeat to Scotland means West Indies are no longer in contention to qualify for the ODI World Cup scheduled later this year in India. The battle for the two spots is now among four teams – Sri Lanka, Zimbabwe, Scotland and Netherlands. Here is what each of those teams needs to do to finish among the top two:
Sri Lanka
Played: 3, Points: 6, NRR: 1.832
Remaining matches: Zimbabwe, West Indies
A win against Zimbabwe on Sunday will ensure qualification for Sri Lanka as only one out of Zimbabwe or Scotland can reach eight points, as they are playing against each other. Even if Sri Lanka lose to Zimbabwe, they can still qualify if they beat West Indies in their last match on July 7. Zimbabwe and Scotland can also finish on eight points, but Sri Lanka should go through, given their excellent net run rate of 1.832.
However, if Sri Lanka lose both their matches, then they can be knocked out, as Zimbabwe and Scotland can both finish above them on eight.
Zimbabwe
Played: 3, Points: 6, NRR: 0.752
Remaining matches: Sri Lanka, Scotland
Like Sri Lanka, Zimbabwe have taken all the points on offer from their three games so far, but their run rate isn't as high as Sri Lanka, which leaves them more susceptible on NRR. For instance, even if they beat Sri Lanka, a defeat to Scotland could leave Zimbabwe in danger of missing out if Scotland win their last match and finish on eight, and if Sri Lanka beat West Indies.
Zimbabwe's NRR is currently 0.752, but if they beat Sri Lanka by a run and lose to Scotland by 40 (with first-innings scores of 300), then their net run rate will drop to 0.281, which can be overhauled by Scotland. However, if they beat Scotland on Tuesday, then they will qualify for sure, regardless of the result against Sri Lanka on Sunday.
Scotland
Played: 3, Points: 4, NRR: 0.188
Remaining matches: Zimbabwe, Netherlands
Scotland have kept themselves in the hunt with the convincing win against West Indies. Not only have they added two points to their tally, but they have also improved their NRR to 0.188. Wins in their last two games will lift them to eight points, which will ensure qualification if Sri Lanka beat Zimbabwe on Sunday. If Zimbabwe win that game, then all three teams could finish on eight, bringing run rates into play.
Their next game, against Zimbabwe on Tuesday, is a must-win for them. A defeat will mean they can't catch up with Zimbabwe on points, and Sri Lanka will almost certainly finish higher on NRR even if they lose both and stay on six points.
Netherlands
Played: 3, Points: 2, NRR: -0.560
Remaining matches: Oman, Scotland
Netherlands need to win both their games by fairly significant margins and finish on six points and then hope that several other results go their way. Their best bet will be for Sri Lanka to qualify, and for the second place to be a three-way battle among them, Zimbabwe and Scotland.
To give an idea of result margins involved, if Netherlands win their last two games by a combined margin of 90 runs, and if Zimbabwe lose their last two by the same combined margin (with first-innings scores of 250), then Netherlands will sneak ahead of Zimbabwe on NRR.
Post published in:
Cricket