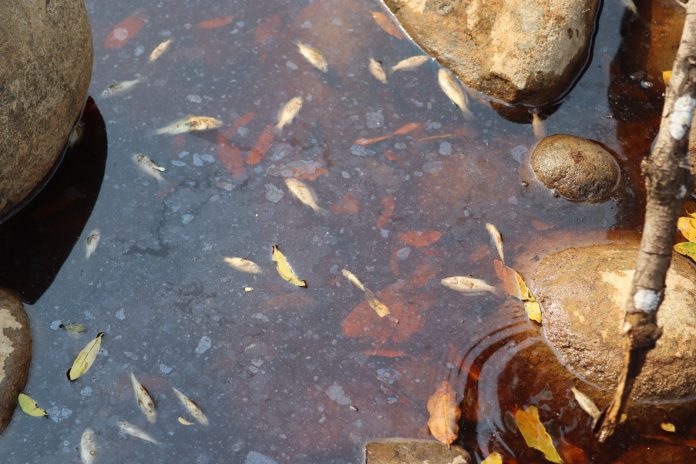 The spillage has so far killed livestock and aqua life in Murare River.
An environmental crisis of a magnitude never seen in this community, dozens of fish and other aquatic life are suffocated under a heavy film of creosote, a pole treatment chemical, accidentally spilled into Murare River last week.
A recount from the villagers points to an accident involving a foreign registered haulage truck that occurred at Murare River resulting to the spillage of the hazardous chemical that has not only affected aquatic life and livestock, but also humans.
An affected resident told the ZBC News, "I have been experiencing very itchy eyes and developed sores around my tongue after I spent a long time inhaling the fumes from the accident."
Another said, "This is a very worrying situation in our area. The damage has been so great and considering Murare River is our water source, the impact is very devastating."
Headman Zvokuitirwa said, "We have suffered a huge loss in this area. From what we have counted so far, we have lost about 28 goats. But the damage extends to people because some people ate the carcases of these goats and were affected."
"The truck is foreign registered and we believe it avoided a head-on with a local bus on Murare River, resulting to the accident which spilled the chemical into this river," explained councillor Ray Bande.
Mr Irvene Nyaguwa, Environmental Quality Inspector with the Environmental Management Agency said, "This chemical is very dangerous and the effects resulting from such a spill are two-fold, affecting both the environment and human lives."
Environmental authorities have responded to the crisis with equipment to flush out the chemical from the water source.
"We are currently on the ground working to ensure that we mitigate this disaster. What we have done is to cordon off the part that has been badly affected," noted EMA Publicity and Education Manager, Ms Amkela Sidange.
While every efforts are being made to address the situation, those behind the spillage are still at large as they reportedly vanished after incident.
Post published in:
Environment