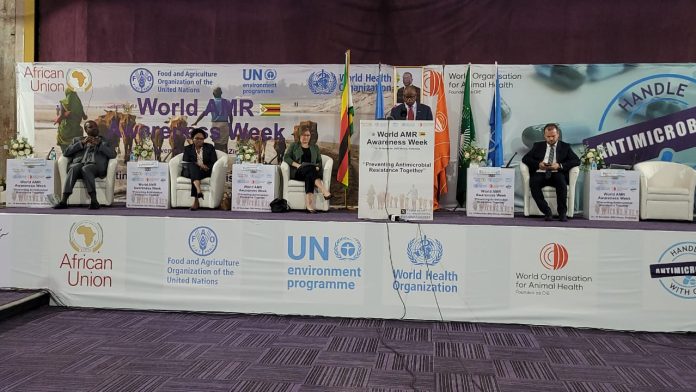 Story by Abigirl Tembo, Health Editor
Health experts, policymakers, researchers, and stakeholders from across the African continent are meeting in Harare for the 5th Continental World Antimicrobial Awareness Week for Africa, amid calls for enhanced collaborative action against the growing threat of anti-microbial resistance (AMR).
According to the World Health Organisation (WHO), AMR has claimed more lives than HIV, TB and malaria combined.
AMR occurs when bacteria, viruses, fungi, and parasites change over time and no longer respond to medicine.
This results in infections becoming harder to treat while also increasing the risk of disease spread, severe illness and death.
Deputy Director General of Africa Centres for Disease Control and Prevention for Africa, Dr Ahmed Ouma Ogwell said, "It is a critical threat to health security and economic growth. It is projected that millions of Africans could succumb to antimicrobial resistance by 2050 if important steps are not taken. In Africa, AMR has already been documented to be a bigger problem than HIV, malaria, and tuberculosis combined. AMR stands as one of the leading public health challenges of the 21st century, with Africa having the world's highest mortality rate from AMR infections, resulting in over 27 deaths per 100,000."
"Antimicrobial resistance is not a distant concept, nor a hypothetical scenario, it is a reality that affects us all. Current data shows that in 2019, over 1.27 million deaths globally, were directly related to antimicrobial resistance, almost equalling HIV/AIDS and malaria combined, which caused 860 000 and 640 000 deaths, respectively. Compared to other regions, Sub-Saharan Africa has the highest AMR-associated deaths at 99 deaths per 100 000 far exceeding previous global projections of 700,000 annual deaths from AMR. Additionally, about 214 000 neonatal sepsis deaths annually are directly attributable to drug-resistant pathogens. We see emerging resistance to treatments for HIV, tuberculosis (TB), and malaria, with extensive drug-resistant TB being reported in at least 100 countries. In sub-Saharan Africa, drug resistance to commonly used HIV medicines has been detected in almost 60% of cases. The overuse and misuse of antimicrobial medicines leads to drug-resistant pathogens, endangering lives, and hindering progress in modern medicine. It also undermines efforts to eliminate poverty, strengthen health systems, and achieve Universal Health Coverage and the Sustainable Development Goals (SDGs)," said WHO Assistant Regional Director, Dr Lindiwe Makubalo."
"The development and spread of antimicrobial resistance are mainly due to the overuse and misuse of antimicrobial medicines which is further exacerbated by lack of awareness. Therefore, the World AMR Awareness Week affords us a perfect platform and opportunity to raise awareness among various stakeholders, including policymakers, professionals from various sectors, civil society, and communities, to build a united front to combat AMR)," added Dr Lindiwe
WHO for Animal Health sub-regional representative for Southern Africa, Dr Moetapele Letshwenyo said, "It is not uncommon to hear a farmer talking about giving animals antibiotics and medicated feed where vaccination could be used. Education and awareness is therefore imperative if we are to win this war against AMR."
With AMR affecting the health and well-being of humans, animals and crops, the government of Zimbabwe has put in place mechanisms to thwart the emerging threat.
Deputy Minister of Lands, Agriculture, Fisheries, Water and Rural Development, Honourable Vangelis Haritatos said, "The AMR problem demands our immediate attention and united action. It is a one health issue, encompassing the interconnectedness of human health, animal health, environmental health, and agricultural practices. We must recognise that AMR affects not only human health but also the health and well-being of our animals and the environment we share. To effectively combat AMR, we need a concerted effort from various sectors, with human health environmental conservation, and agriculture leading the charge."
"The health and social well-being of citizens remains high on the agenda of the Government Development Strategy (NDS1), the National Health Strategy (202 Zimbabwe in line with Vision 2030 as outlined in the Nation 2025) and at the global scale, the Sustainable Development Goa In the spirit of leaving no one behind, the Government Zimbabwe and my Ministry will continue to put in place the necessary policy operational framework and interventions for the prevention and control of Antimicrobial Resistance. We must not forget that the Antimicrobial Resistance response requires a "whole of society approach", hence all of us are called upon to play our part in the prevention and control of Antimicrobial Resistance," said the Minister of Health and Child Care, Dr Douglas Mombeshora.
In sub-Saharan Africa, the threat of AMR primarily arises from unregulated and inappropriate use of antimicrobials across various sectors, including human, animal, and plant use.
The World Health Organisation identified AMR as one of the top 10 global public health threats facing humanity.
The conference which will run until Friday will also highlight successful initiatives and projects from different African countries, showcasing their efforts in combating AMR and inspiring others to take action. | ZBC NEWS
Post published in:
Agriculture