There was the extraordinary incident in which she allegedly assaulted a young model in Johannesburg – and needed diplomatic immunity to avoid an embarrassing court case.
There was the bitter feud with the vice-president and rival to succeed her husband, Emmerson Mnangagwa, which resulted in her denying she plotted to poison him.
Then there was the decline in both the Zimbabwean economy and her own personal popularity ratings. The two may be connected, given that her detractors like to refer to her as the "First Shopper".
Grace Mugabe's political ambitions may have been as much about self-preservation as an instinct to lead. She has two sons and a daughter with the 93-year-old president. Libya is not the only case study to demonstrate that history is not always kind to family members who outlive a long-term authoritarian ruler.
On Wednesday morning, it was reported that she was in Namibia on business as her husband remained detained at home in Harare, her attempts at future-proofing herself and her family having apparently backfired.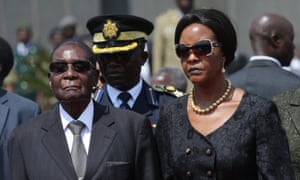 At the heart of Grace Mugabe's extraordinary journey from struggling single mother to the most powerful woman in Zimbabwe is a love story. In the early 1990s, Grace, a young married woman who had secured a job in the president's typing pool, found that the president kept sticking around to say hello.
"He came to me and started asking about my family," she told South African journalist Dali Tambo in 2013, in a rare interview. "He just started talking to me, asking me about my life. Were you married before, things like that … I didn't know it was leading somewhere. I was quite a shy person, very shy."
The anglophile president wooed Grace over tea and scones, but there were a couple of obstacles to their relationship. One was the age gap – President Mugabe is 40 years older than Grace. Another was the fact that the president was already married, to Sally Mugabe, who at the time had terminal cancer. "I felt a bit uncomfortable when he proposed to me since he was still married to Sally," she said.
Robert Mugabe, never a great romantic, took a practical approach. "It was necessary for me to look for someone and, even as Sally was still going through her last few days, although it might have appeared to some as cruel, I decided to make love to [Grace]. She happened to be one of the nearest and she was a divorcee herself. And so it was," he said in the same interview.
Post published in:
Featured