In one town, a man in his 20s invites me to his shop and tries to convince me to buy a silver necklace. "It costs twenty dollars," he says. "But for you I can make that fifteen."
He offers the discount rather half-heartedly. "You see, people don't want to spend money on thing like these; the economy is really doing badly."
The once-promising African country has sunk into an economic abyss.
The government was forced to abolish the country's currency in 2009 because of hyperinflation, and introduced more stable foreign currencies such as the US dollar.
Inflation peaked at 79.6 billion percent in mid-November 2008.
On Wednesday this week, the government published the latest inflation rate showing a 2.24% year-on-year rise for the month of October. Some economists, however, say the new figures are a gross underestimate.
It's no surprise then that many Zimbabweans almost instantly warmed to the military's move to take control of the country, and confine President Robert Mugabe to his official residence.
"The military has done a good thing," says one bookseller. "They will ensure we get a transitional government."
He is firmly convinced that Mr Mugabe's 37-year rule is coming to an end.
There has been a sudden change of tone in the country, and the sense is that many Zimbabweans have been yearning for change.
Any change, it seems, would do.
At the market, traders hope this means their fortunes will change. Many of them passively watch shoppers walk past their shops, resigned to the idea that most people are struggling to make ends meet.
So when a middle-aged tourist buys souvenirs, the rest of the traders suddenly swarm around her as they invite her to view their merchandise. She thanks them, but politely declines the invitation and walks away.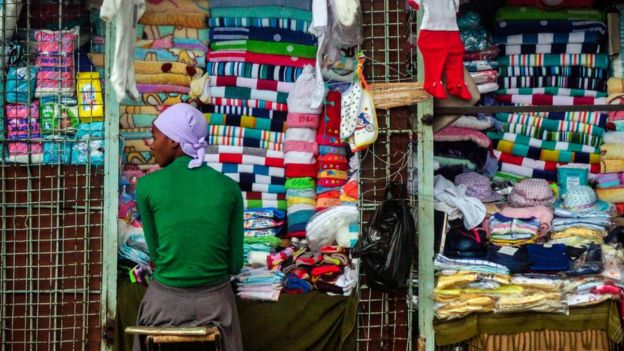 The traders believe their economic situation will improve once Mr Mugabe's rule ends. But there is still political uncertainty surrounding the succession.
The once-vibrant opposition has begun to speak out, and the former Prime Minister, Morgan Tsvangirai, is now back in the country. He has demanded that President Mugabe steps down.
What started as a split within the ruling Zanu-PF party could well develop into a broader crisis with politicians from across the divide angling to take over from Mr Mugabe.
But the president still commands a lot of respect as an independence icon.
The same respect does not seem to be extended to his wife, Grace, who was thought to be his preferred successor. Her openly extravagant lifestyle has been widely criticised.
What is clear is that the events of this week have dented – if not ended – any chances she had of succeeding her husband.
In the midst of political uncertainty, Zimbabweans remain hopeful. Change is coming, in whatever form.
Post published in:
Featured