"Any other channel parroting a purported MT position is the black market… unofficial…illegal"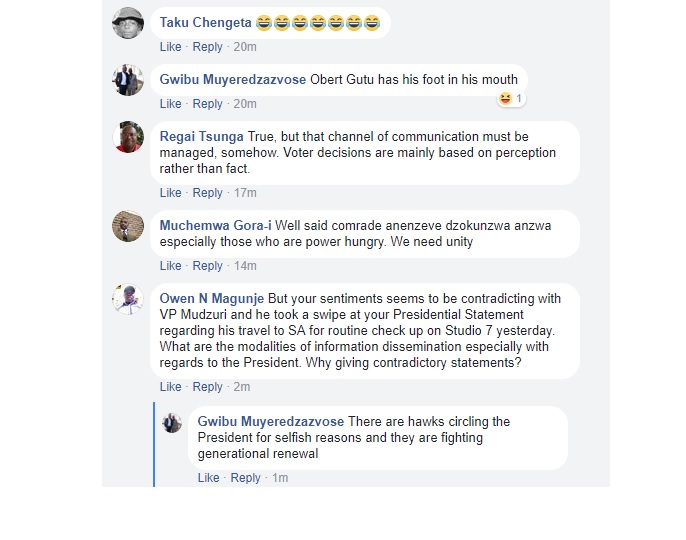 By Farai D Hove| Chaos has hit the opposition MDC party as spokesman Obert Gutu was interpreted by observers to be a black market spokesman. The matter of contention is the MDC leader Morgan Tsvangirai's position on passing the baton which he communicated in his New Year special on Monday.
Soon after that, Obert Gutu who since last week has sent out statements against Vice President Nelson Chamisa, ran another one declaring that Tsvangirai is not at all handing over power before the upcoming 2018 elections.
Tsvangirai's statement was clear on handing over power to a younger leader as the MDC leader also pointed at the upcoming elections. To describe his successor, he clearly used the term "younger generation," in what brought a gush of praises from the community amid belief that he means his 40 year old deputy Nelson Chamisa.
"As I have said before, while politicians only think about the next election, true statesmen think about the next generation, for current leaders are only but caretakers for future generations. We do not have any entitlement to lead but we have a duty to serve," said Tsvangirai.
Speaking further in his latest statement dubbed New Year Statement, Tsvangirai said he is looking forward "at the imminent prospects of us as the older generation leaving the levers of leadership to allow the younger generation to take forward this huge task that we started together".
But speaking against his own boss, Obert Gutu yesterday announced saying,  "Contrary to recent press reports that suggested that President Tsvangirai will soon be stepping down from the leadership of the party, the fact of the matter is that President Tsvangirai remains the leader of the MDC and he is the MDC Presidential candidate for the 2018 elections."
But Tsvangirai's own spokesman announced Wednesday morning stating, "President Morgan Tsvangirai speaks for himself, as he did through his statement on Monday or through his official spokesperson, as happened after he met with President Mnangagwa last Friday.
"Any other channel parroting a purported MT position is the black market. And the black market is not only unofficial but illegal."
Post published in:
News