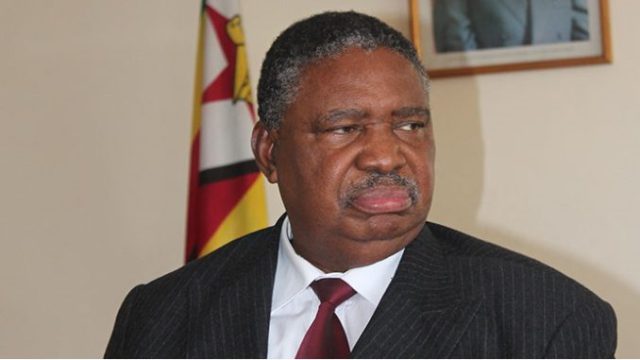 Paul Evans, who was the director of Golden Grill Fast Foods, fled the country to South Africa in 2016 where he wrote a letter to former president Robert Mugabe in which he implicated Mphoko and war veteran George Mlala of having a hand in destroying his business entity, in the process putting his life under threat.
This comes at a time Mphoko has also been sucked into a dispute between Bulk Cash and Carry Wholesale (BCCW) and its former manager Oga Chafausipo who made a report to the police, accusing the company of externalising foreign currency. Police have since indicated that the matter is still under investigation.
However, in the latest scandal that might further expose the crude shenanigans of the former vice president during his days in power, investigations by the Southern News indicate that Mphoko and Mlala hounded Evans out of the country.
Sources told this paper that Evans' trouble started when government introduced the indenisation law, which Mlala and company used to persecute local and foreign businesspeople in the city under the protection of Mphoko.
Golden Grill Fast Foods was temporarily shut down in 2014 after the National Indigenisation and Economic Empowerment Board (NIEEB) said the organisation was not in compliance with the then controversial law.
The order was later reversed after it was established that Evans is a Zimbabwean citizen amid revelations that the move to "indigenise" the company was political.
Mlala, alongside one Farai Mazorodze, successfully took over Evans's bakery Gold n Crusty before they descended on Golden Grill Fast Foods outlets, forcing Evans to skip the border.
But before he left, Evans had confronted Mphoko over the unlawful takeover, arguing that he was a Zimbabwean by birth but the former VP reportedly ordered him to be in partnership with Mlala if "he wanted his business to grow."
In his letter to Mugabe, which was copied to the British and Australian embassies in Harare, Evans implicated Mphoko and Mlala among others.
"Mlala had instituted proceedings using letters from the President's Office, I then confided in a certain gentleman who felt there was a malicious conspiracy against the office, and character of the Honourable Vice President Mphoko and a meeting was arranged for me to meet with him," read the letter in part.
"We met at his resident office, there were a few security personnel, I categorically told him that Mlala had illegally indigenised a business belonging to a Zimbabwean national and probed him about the Zimbabwe Federation of Trade Unions and their representative  . . . Mangena," wrote Evans.
When the Southern News sought comment from him at his base in South Africa, Evans insisted that he was going to call back, a promise he did not honour till the time of going to print. Concerted efforts to get his comment drew a blank.
Before Evans crossed the border he transferred the power of attorney to his longtime business partner Douglas Siziba who was also not spared in the crackdown by Mphoko and company.
Siziba, who went on to take the matter to the court in a bid to protect the business, could not hide his anger when contacted.
"I still hold the power of attorney to all the Golden Grills outlets according to the law and I have never transferred that property to anyone," Siziba told the Southern News.
"I am still shell-shocked that those who were in power did not act when the likes of Mlala and Mphoko took someone's property under the guise that they were representing the workers. It is also shocking that after a court order, the politicians made sure that the business was not returned to the rightful owner. That's a high level of corruption that we expect the new government to deal with," Siziba said.
Mlala and Mphoko were, however, not reachable on their mobiles amid reports that the former was on the run as police are hunting for him following his numerous corruption allegations.
Mphoko's lawyer Welshman Ncube yesterday told Southern News that Mphoko had dismissed the allegations as mere fabrications meant to soil his name politically.
"I have spoken to Mphoko and his response is that all those allegations are totally 100 percent false," Ncube said.
"He has never been involved in issues to do with Golden Grill and he never supported Mlala . . . And he denies having any conversation with Paul Evans. He says all these are political fabrications directed at him for political motives. He has always acted lawfully and ethically during his time in office," Ncube said.
The Southern News learnt yesterday that former workers led by Mlala formed a company which they are using to run the company under the same brand name.
However, one of the three branches was last year shut down due to poor management. This paper also leant that the organisation was on the verge of collapse as those in charge have already sold and are still selling some machines and equipment as they struggle to cope with operational costs.
This, Siziba said, was unlawful as the Mlala-imposed owners do not have the right to do so. – SouthernNews/DailyNews
Post published in:
Featured