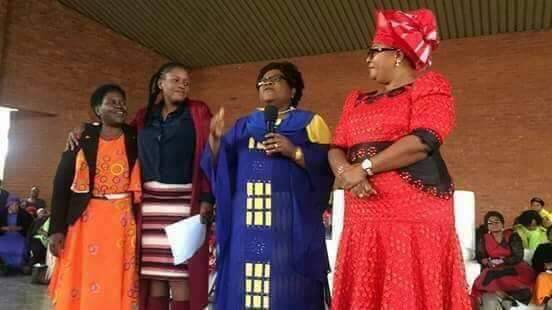 By Paul Nyathi| People's Rainbow Coalition leader Joice Mujuru is preparing to team up with disgruntled MDC-T Vice President Thokozani Khuphe to topple the MDC Alliance coalition as the main opposition against ruling ZANU PF in the elections set to take place before July this year.
Highly placed sources within the coalition told ZimEye.com that supporters from both sides have implored on their leaders to strike a working relationship in the wake of the confusion rocking the Nelson Chamisa led MDC Alliance in the province.
According to the sources both Khuphe and Mujuru have acceded to the calls from their supporters and talks between the two are underway.
Meanwhile, the Mujuru led PRC held a closed door meeting with its Bulawayo Province Election Task Team on Monday where issues around candidate identification were discussed.
The meeting was core chaired by Dr Samuel Sipepa Nkomo of the National People's Party and Dr Gorden Moyo of a splinter People's Democratic Party a partner in the PRC.
Sources indicated that the meeting resolved to immediately kick off a candidates identification process in the province and these be presented at a PRC convention of prospective candidates to be held in Gweru on Valentine's day.
The sources further revealed that Mujuru is set to visit Bulawayo on the 9th of February to possibly meet with Khuphe before meeting with the combined structures of PRC partners in the city the following day.
Efforts to get a comment from Khuphe on the matter were not successful as her mobile phone went unanswered.
Sources close to Khuphe however revealed that plans to resist the MDC Alliance coalition in Matabeleland are going ahead undeterred as most MDC-T members in the region are not happy with being detected on with coalition candidates who may not even win elections at the expense of high profile MDC-T candidates.
Post published in:
Featured