Robert Mugabe has said he will not vote for his former party Zanu-PF or the current president, Emmerson Mnangagwa, in an astonishing intervention on the eve of Zimbabwe's historic election.
In his first major statement since being ousted by the military last November, the 94-year-old former dictator told reporters in Harare he would be voting for the Movement for Democratic Change (MDC), the country's biggest opposition party, and its candidate, 40-year-old Nelson Chamisa.
"I cannot vote for the party or those in power who caused me to be in this condition. I cannot vote for them, I can't," Mugabe said at a hastily called, chaotic press conference in the garden of his sprawling home in Harare. "[Chamisa] seems to be doing well at his rallies … I wish to meet him if he wins. Whoever wins, we wish him well … And let us accept the verdict."
The former autocrat's decision not to back the party he led to victory in Zimbabwe's independence war and for 37 years as president is the latest twist in an extraordinary election that will determine the former British colony's future for decades.
It is unclear how the intervention will influence the close contest. Mugabe's call to vote out what he described as an "unconstitutional and illegal" government may win over some voters, but put off others.
Wearing a dark suit, white shirt, red tie and matching pocket handkerchief, with his frail frame propped up by tiger-skin patterned cushions, Mugabe described his November ousting as a coup. He accused the military of suppressing democracy, arguing that his own rule was legitimate because he held elections every five years.
"These tanks that roared across the country, whom were they fighting? Who was the enemy? We were fighting ourselves.
"The army has turned against the very people they fought for. I say 'no'. This is wrong. There should be a big no to guns directing politics," the former guerrilla leader said.
"Let tomorrow be the voice of the people saying never again, never again will we experience … the army being used to thrust one person into power."
Mugabe denied accusations that he had ever used force to suppress dissent, although successive elections in Zimbabwe under his rule were marked by well-documented violence and the systematic intimidation of opposition activists and supporters. Media and civil society also suffered fierce repression.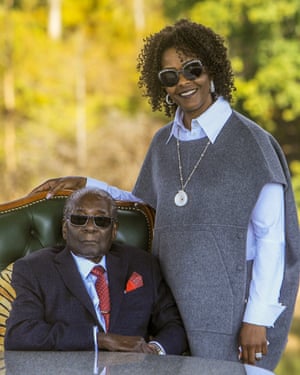 Mnangagwa, who was one of Mugabe's closest aides, has been under pressure to shun such tactics and experts say the current election campaign has been the most peaceful for many decades. Without international approval of the poll, no incoming administration will get the billions of dollars of aid needed to restore Zimbabwe's shattered economy. Fears of rigging remain, however.
Mugabe denied reports that he had assisted the MDC's campaign, saying he had never met Chamisa, but the former teacher turned freedom fighter, who took power in an independent Zimbabwe in 1980 after a brutal struggle against a white supremacist regime, is still so central to the political life of his country that his endorsement became the focus of questions at a parallel press conference held by the MDC leader on Sunday.
"Mr Mugabe's wishes are his wishes," Chamisa said. "I am going to accept any voter with open hands. The more the merrier."
Grace Mugabe sat a few yards away throughout her husband's two-hour press conference.
The political ambitions of the former first lady were believed by many to be the catalyst for the army's decision to intervene in November. Wearing an elegant grey cape and trademark dark glasses, the 55-year-old former secretary was shaded from the bright southern winter sun by an aide holding an umbrella bearing images of her marriage to the ex-president in 1996.
Mugabe said it was "total nonsense" that he wanted his wife to succeed him and claimed that he had been preparing to resign at a Zanu-PF congress in December. The news of his departure days after the military takeover prompted scenes of wild jubilation across Zimbabwe as tens of thousands poured into the streets to celebrate.
Though he became increasingly unpopular with most Zimbabweans as mismanagement and corruption sent the economy into decline, the former president retains some support in his rural heartland where supporters remain bitter about the manner of his removal.
Many of Grace Mugabe's once powerful "G40 faction" are now in exile and her husband railed against the "harassment" of friends and family, listing a series of political allies who were arrested, mistreated, stripped of assets or forced out of Zimbabwe since his fall from power.
"We should be left free as a family. I do not accept the denunciation and villification of my wife that is going on every day. I do not understand why … Leave, leave, leave my wife alone. I want Grace to remain my Grace," he said.
The couple posed for photographs after the press conference and told a reporter, who asked about Grace's devotion to her spouse, that "what God has joined together no man can put asunder".
Since being ousted, Mugabe has not been seen in public and is thought to spend most of his days in his home. He said he was grateful to the authorities for allowing him to travel to Singapore for health check-ups.
But the frustrations of such a life for the former president were evident. He complained about poor workmanship by "Yugoslav" builders on the spectacular blue-tiled roof of his sprawling mansion and of having insufficient funds for repairs. Asked if he was unhappy not to be a candidate in the elections – a first in the history of Zimbabwe without his name on ballot papers – Mugabe said it was "painful but a reality."
He complained of being cold in recent days as temperatures dropped in Harare during a chill spell. "I don't know how many clothes I was wearing [yesterday]," he said. "It is a better day today. I hope tomorrow is a better day again for all of us."
Post published in:
Featured