1) First election without Mugabe
Since Zimbabwe's birth in 1980, only one person has ever won an election to lead the country – Robert Mugabe. He was prime minister until a presidential system was introduced in 1987.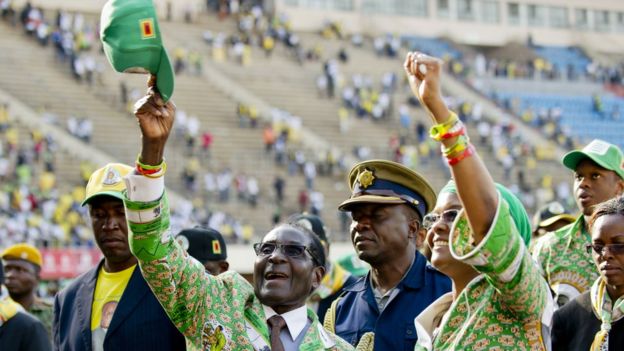 But the 94-year-old was ousted from power last year by the army and those in his own party who were angered at moves to allow his wife Grace Mugabe to succeed him.
A few weeks before the military takeover in November, Mr Mugabe had fired his deputy, Emmerson Mnangagwa, and was manoeuvring for his wife to be appointed in his place. But it ended in his downfall and Mr Mnangagwa became president. He is now the Zanu-PF's presidential candidate.
And there is a change in the air when it comes to campaigning as all parties have been able to hold rallies and marches without hindrance or intimidation, unlike in previous polls. International election observers from the Europe and the US have been welcomed for the first time since 2002.
The media scene is also vibrant, with different views being expressed – though state media is still seen as the mouthpiece of the ruling party.
2) Longest ballot paper
Robert Mugabe's exit from the scene has led to a flourishing of political ambitions – and 23 names will appear on the presidential ballot.
Fifty-five parties are also contesting the parliamentary election. Commentators say this shows how feared the former president had become during his 37-year rule.
Some of those trying their luck have returned from the diapora to relaunch their careers. But the main presidential contenders are Emmerson Mnangagwa of the ruling Zanu-PF and Nelson Chamisa of the opposition MDC Alliance.
However, there is a controversy over the two-column design of the presidential ballot paper, which has Mr Mnangagwa appearing at the top of the second column. The opposition says this is illegal, but electoral chief Priscilla Chigumba said if it was done as a single column, when folded, a voter wouldn't be able to post it into a ballot box as it would be too thick for the slot.
Post published in:
Featured