Evidence of urban poor's anger seen in looting, rioting
 Security forces fired live ammunition to control protests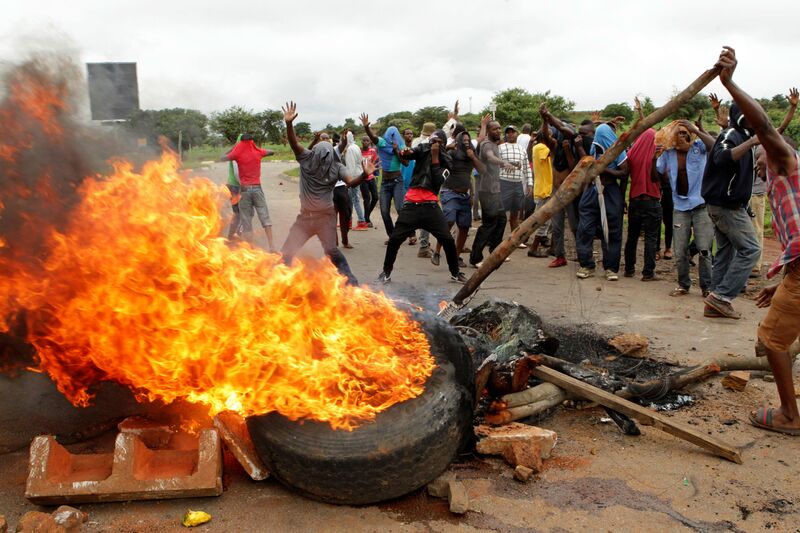 While the military intervention shattered the mystique of Mugabe and Zanu-PF, Mnangagwa's promises of a "new Zimbabwe" with better living standards and political freedom have fallen flat: the nation's gripped by the worst economic crisis in a decade and the army has replaced the police in clamping down on protests.
Prices Soar
Since Mnangagwa took power, inflation has surged to 42 percent, the highest since 2008 when it soared to 500 billion percent and prompted the government to abolish its own currency.
Even though Zimbabwe now mainly uses the dollar, an absence of cash has led to shortages of goods and a series of strikes. Some workers are refusing to accept electronic payments, which trade at a steep discount to cash dollars on the black market.
That's exacerbated hardship for the urban poor, and public anger has been further inflamed by a crackdown that saw soldiers fire live ammunition. For many, the wealth of the elite connected to the ruling party has been the trigger.
"We have nothing and they have everything," said Effort Musandu, a 34-year-old gas station attendant in Harare. "Have you ever seen a Lamborghini in a fuel queue? Because I have. And Bentleys. They all belong to people with Zanu connections. For us? We must walk."
While a heavy military presence has quelled the protests for now, it's unlikely to stay calm for long, said Pigou.
"While the state can contain it, you can't just put that stuff back in the bottle," he said. "The pot will keep boiling."
Post published in:
Featured