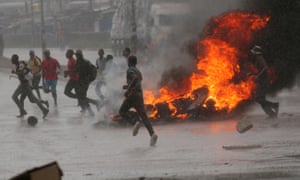 We are deeply concerned about grave human rights violations in Zimbabweand condemn the violent repression of peaceful protesters, including the leaders and members of the Zimbabwe Congress of Trade Unions, who called for a peaceful three-day strike in mid-January. Since then, security forces have used live ammunition against civilians, killing at least 12 people and wounding 78 others.
Civil society activists and opposition politicians have been arbitrarily arrested and detained. Our colleagues in Zimbabwean human rights groups report that police and men in military uniform are conducting door-to-door raids in urban areas, during which rapes and beatings have occurred.
On coming to power in November 2017, President Mnangagwa spoke of a "new and unfolding democracy" in Zimbabwe. Yet all forms of democratic governance must allow people to exercise their human rights. No citizen should be killed, harmed or harassed for peaceful dissent, and all individuals who have been arbitrarily detained should be released immediately.
If the government of Zimbabwe is truly committed to holding to account those who have committed abuses, it will formally invite the African Union or the UN to conduct an independent investigation. It is unacceptable for the UK government to continue to entertain the government of Zimbabwe's request for a review of its relationship with the international community while civilians continue to be assaulted and killed and an independent investigation has not been conducted.
Post published in:
Featured