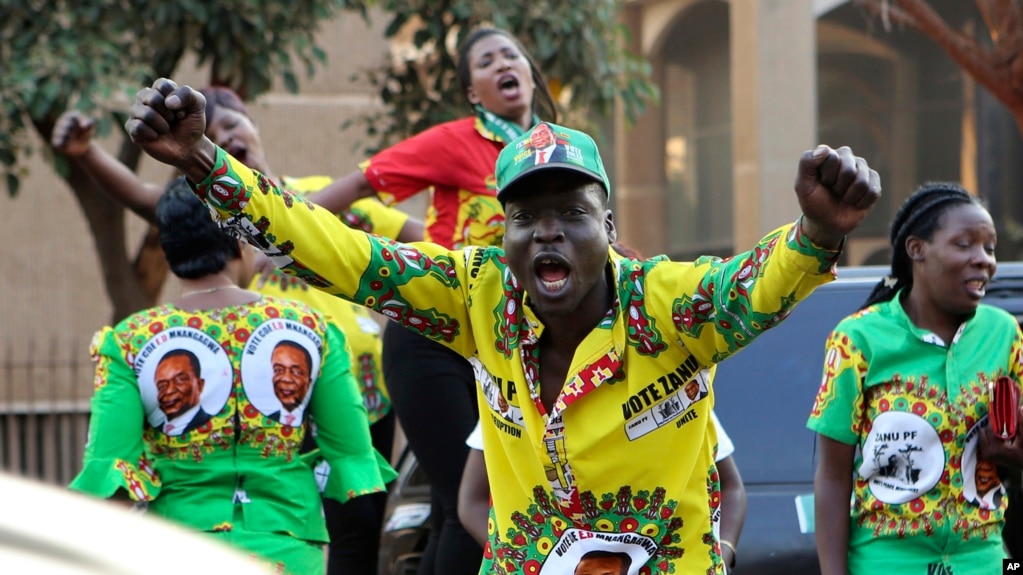 MARYLAND — Abatsha abakubandla leZanu PF bathi uMnu. Julius Malema owebandla leEconomic Freedom Fighters uyalahlaka kakhulu nxa esithi uhulumende kaMongameli Emmerson Mnangagwa ubulala abantu eZimbabwe abamphikisayo.UTendai Chirau, obambe okwesikhatshana isikhundla somsekeli kasibalukhulu wohlangothi lwabatsha oweYouth League, uthi uMalema ngumuntu ongabambi kahle kwezombangazwe njalo othikaza ukukhuluma iqiniso kulandela ukuxotshwa kwakhe kubandla leAfrican National Congress of South Africa.
UChirau uthi abethukanga ngitsho lakancane okwethulwe nguMalema "ofuna ukuthi abantu babone ukuthi lokhu ekhona kulandela ukuxotshwa kwakhe kubandla leANC."
Uthi uMalema usekela izifiso zabahlamuka kubandla leZanu PF ababizwa ngokuthi yiGeneration 40 (G40) eyayifuna uMnu. Sydney Sekeramai athathe isikhundla sikamuyi uRobert Mugabe engakasuswa libutho esikhundleni sikamongameli.
Okwethulwe nguChirau kusekelwe nguMnu. Patrick Chinamasa, obambe okwamanje isikhundla sesikhulumeli sebandla leZanu PF, loMnu. George Charamba, isikhulumeli sikamongameli.
Abaphikisayo bathi uMalema uyitshaye ekhaleni ngoba uMongameli Cyril Ramaphosa usethumele uNkosazana Baleka Mbete loDokotela Sydney Mafumadi ukuba bayehlolisisa okwenzakala eZimbabwe okubikwa ukuthi kulabantu abedlula amatshumi ayisithupha asebebotshelwe ukuzama ukutshotshozela abanye ukuthi batshengisele emigwaqweni besola ubokhohlakali lokunye okuhluphayo elizweni.
Abanye babotshwa ngamapholisa bahanjiswa kwabezomvikela kubutho ababatshaya kabuhlungu.
The ruling Zanu PF party has described Julius Malema, leader of South Africa's opposition Economic Freedom Fighters, as an "absolute political nonentity, following his campaign dubbed #ZimbabweLivesMatter, which has generated international debate on alleged human rights abuses in Zimbabwe.
Responding to calls by Malema for the South African government to shutdown the country's embassy in Pretoria over human rights abuses, Zanu PF acting deputy Youth League secretary, Tendai Chirau, said the EFF leader's remarks are misguided sentiments of a person, who is looking for international recognition.
In a statement, Chirau said Malema is struggling for significance in his native South Africa and therefore lacks any qualifications to authoritatively comment on Zimbabwean issues.
"By our standards, Mr. Malema is a puny, absolute political nonentity whose nostalgia for his wasted glory days with the ANC (African National Congress) has pushed him into bed with the equally disgraced G40 (Generation 40) clique of charlattans, whose narcissistic penchant for publicity is well documented.
"It is no secret that he is the latest, albeit ill-chosen, front for the furtherance of the self-exiled cabal's counter-revolutionary pursuits. Malema's continued senseless attacks on the Zimbabwean government and ZANU-PF, and the threats to close the Zimbabwean Embassy in South Africa only confirm his ill-advised futile objective of undermining the strong and healthy diplomatic relations between Zimbabwe and her sovereign neighbor, South Africa, and the binding revolutionary ties, sealed with the blood of patriots, between ZANU-PF and the ANC. ZANU-PF has, from its very foundation, been at the heart of Zimbabwean lives."
G40 is a faction of the ruling party, which campaigned for the elevation of former State Security Minister Sydney Sekeramai to succeed the late former president Robert Mugabe. The faction, said to be the brain-child of former Information Minister Professor Jonathan Moyo, former Youth Minister Saviour Kasukuwere and several others, was sent packing when Mugabe was toppled in a defacto military coup.
Chirau said Malema should not interfere with the affairs of a sovereign state like Zimbabwe, whose president was democratically-elected in 2018.
"By waging a bitter and protracted liberation struggle, wherein patriot cadres made the capital sacrifice, losing precious lives and limbs in the process, the revolutionary Party proved its fullest commitment to Zimbabwean lives. Under the current Second Republic, captained by the shrewd Cde ED Mnangagwa, the ZANU-PF led administration has embarked on various pro-people economic policies, such as Vision 2030, which are steadily yielding fruit," he added.
"If Malema is truly more concerned about Zimbabwean lives than the Zimbabwean government, as he would have his gullible audience believe, then he should be at the forefront in defending them from the poisonous culture of targeted xenophobia endemic in his own country."
In a tweet, Malema recently said, "We call for the removal of the Zimbabwean Embassy in SA until they restore the human rights in that country. Failure to do so, we will prevent any official from the Zimbabwean government from participating in any gathering in SA until they respect ordinary Zimbabweans."
Other top South African political leaders and celebrities retweeted Malema's #ZimbabweLivesMatter campaign post before it caught world attention.
Malema was unreachable for comment.
Post published in:
Featured