With help from Beijing, country looking to achieve herd immunity by end of year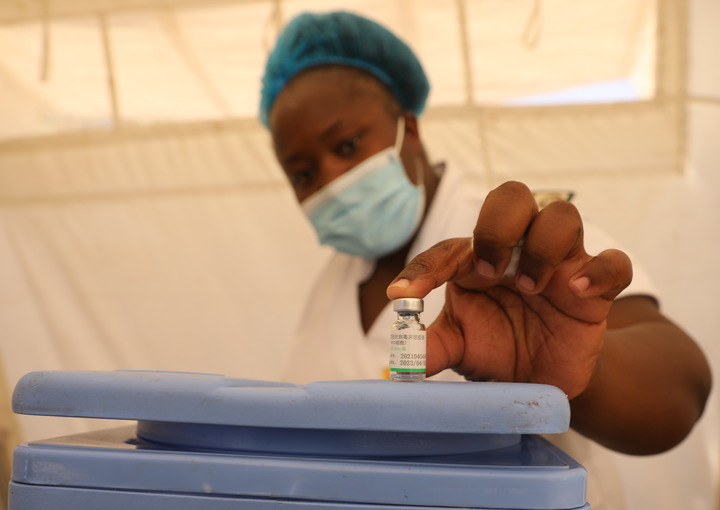 With 13 million doses having already arrived in the country and more than 3 million doses expected to arrive this month, the government says it is confident herd immunity will be achieved in the country by the end of the year, when 20 million doses will have been administered to 60 percent of the country's people.
On Aug 24 the Chinese embassy in Harare confirmed the arrival in the capital of 1 million doses of the Sinovac vaccine, which brought the number of vaccines China has provided to Zimbabwe to 9.2 million doses.
Monica Mutsvangwa, the country's minister of information, publicity and broadcasting services, said Zimbabwe had taken delivery of 2.5 million doses from China between Aug 19 and Aug 24 alone.
"During September, the country is expecting to receive 2.5 million doses of vaccines under direct purchase, and 943,200 doses under the COVAX program," Mutsvangwa said.
By Wednesday more than 1.6 million people had received their second dose, from mainly two Chinese vaccines, produced by Sinovac and Sinopharm.
To facilitate reaching herd immunity by the end of the year, the Zimbabwean government started last month to extend groups eligible for vaccinations from adults to those aged between 14 and 17.
The government will donate 20,000 doses of vaccine to Namibia to support its vaccination program, Mutsvangwa said.
Enoch Dongo, president of the Zimbabwe Nurses Association, said the predominantly Chinese vaccines administered in the country have worked well against COVID-19 infection and illness.
"Many of those admitted to hospital, the majority, aren't vaccinated. We encourage people to be vaccinated so as to reduce sickness."
China has been providing COVID-19 vaccines to other countries in need since last year.
It aims to provide 2 billion vaccine doses to the world this year to honor its commitment to make the vaccine a global public good.
More than 100 countries had received a total of 770 million doses of Chinese COVID-19 vaccines by early last month, China's Foreign Ministry says.
Hard-hit group
The help came as many African youths have struggled with jobs and education amid the pandemic, a survey of people aged 18-24 in 15 countries has found.
The pandemic increased the already high level of unemployment among the group, according to preliminary findings of the second annual Africa Youth Survey.
Nearly 20 percent of the 4,500 respondents said they lost their jobs because of the pandemic, and 37 percent said they were forced to stop or pause their education.
Another 8 percent said their pay was cut, 18 percent had to move back home and 10 percent said they had to care for family members, according to the survey, commissioned by the Johannesburg-based Ichikowitz Family Foundation, whose founder, Ivor Ichikowitz, runs Paramount Group, an aerospace, security and military contractor.
Bola Badejo, 29, who had worked for a broadcaster in Abuja, Nigeria, said her salary was halved, and she could not make ends meet with what was left.
"I was already poor and I was working just for the sake of doing the job," she said. Then she was laid off. "I fell into depression because the whole thing was really sad. I felt I had nowhere to go."
The writer is a freelance journalist for China Daily.
Wang Xiaodongin Beijing, Xinhua and agencies contributed to this story.
SOURCE: China Daily
Post published in:
Featured