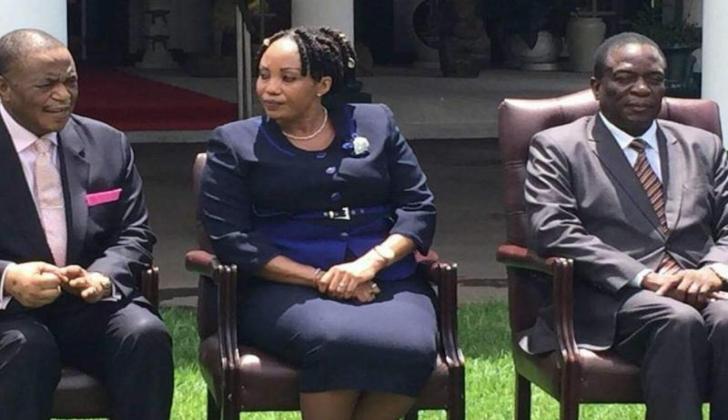 Chigumba chose the latter. She had to fight, not run away as she wanted to do five years ago. This was different from 2018 during the bloody elections aftermath when under immense political pressure she contemplated the former, sources told The NewsHawks.
"Towards the deadline to gazette the report – 17 February – there were several meetings between Mnangagwa and Chigumba, including two last Sunday and on Monday, to resolve the crisis that had developed as a result of whether it was a final report or not, and when to gazette it," a source said.
"Throughout the tense period, Chigumba argued like a judge, pointing to the constitution and showing Mnangagwa that she was not intimidated about upholding the constitutional position.
"Chigumba stood firm, saying the constitution was clear on the process, the same position later articulated by the Speaker of Parliament (Jacob Mudenda). She said the report she had submitted on 3 February was final and she wouldn't budge on that. She even threatened to resign if stampeded into unconstitutional positions. No doubt she had strong political support from within the system.
"However, she did everything she could to avoid a political confrontation with the President. She was prepared to quit if forced to do brazen unconstitutional stuff and illegalities. Mnangagwa was not impressed with her either in the end, but conceded to her position to avoid a messy affair."
After marshalling the delimitation process across a difficult six-month rough patch, and then through stormy clouds where it risked being shipwrecked by an internal Zec revolt and in Parliament amid fierce criticism, Chigumba eventually submitted the final report on 3 February in terms of section 161 (10) of the constitution.
She made it clear after presenting it to Mnangagwa at State House that it was the final report which he must gazette within 14 days – meaning by 17 February – in terms of the constitution.
However, soon after that Mnangagwa's government mandarins initiated a new campaign to subvert the process, including the constitution. The President seemed to subtly agree with them.
While presidential spokesperson George Charamba initially supported Chigumba saying the report was final, he was later whipped in line and forced to withdraw from that position.
Charamba and his colleagues had first confirmed the report was final on Mnangagwa's presidential communications department Twitter account. This had reinforced Chigumba's stand which was supported by Vice-President Constantino Chiwenga and Central Intelligence Organisation (CIO) Director-General Isaac Moyo.
Moyo and Chigumba have a "special relationship", according to an official source who spoke to The NewsHawks, a situation which helped the Zec boss to weather the storm, navigate and survive.
Although the fight over the delimitation process and the resultant report mirrored Zanu-PF political factions, there were cross-cutting issues and it was more shaped by personal interests as much as it was by shifting political agendas.
Mnangagwa was subtly supporting those opposing the preliminary draft delimitation report which had created chaos within traditional Zanu-PF rural strongholds, especially in different chiefs' jurisdictions, and robbed some party cadres like parliamentary chief whip Pupurai Togarepi of their constituencies.
There had been loud complaints against the delimitation process by Zanu-PF MPs, chiefs and supporters, which spooked Mnangagwa, sources said.
Mnangagwa, fearing losing support during the upcoming August general elections amid conspiracy theories that the report was calculated to weaken or remove him, behind the scenes encouraged a process to overhaul the report.
"Mnangagwa's fear was the chaos created by the delimitation process, not the conspiracy theories being circulated and the far-fetched alliance between Chiwenga and opposition CCC leader Nelson Chamisa to oust him," another source said.
In his bid to change the report, the President was supported by Justice minister Ziyambi Ziyambi and permanent secretary Virginia Mabhiza who is close to him, sources said.
It is said Mabhiza has personal ambitions to become an MP and Justice minister.

Although Mnangagwa agreed with them, he was warned that throwing away the baby with the bathwater would create bigger and intractable political problems for him ahead. If the report had been discarded, that would have meant using the 2008 electoral boundaries which are now 15 years old.
The constitution requires that delimitation should be done every 10 years after the population census. Since there was a transitional period between the old constitution and the current one, it had been more than 10 years since the last delimitation was done.
Under the current constitution which came into force in 2013, delimitation was due this year.
Thus it would not have been politically expedient for Mnangagwa to go back to 2008 when there have been dramatic demographic and even topographical changes.
Delimitation is not just an arithmetic exercise as section 161(6) of the constitution states that due consideration must be given to physical features, means of communication within an area, geographical distribution of registered voters, any community of interest between registered voters, existing electoral boundaries and population in delineating wards and constitutions to ensure equity.
Sources say Mnangagwa appreciated that going back to 2008 would be far more complicated than changing the existing report.
Yet his allies like Ziyambi and Mabhiza, as well as the seven Zec commissioners who revolted against Chigumba and their proxy Tonderai Chidawu fighting the delimitation report in court did not see it that way. They wanted the report set aside by Mnangagwa or through the courts.
The commissioners, who are also disgruntled over their contracts and benefits, particularly the need for new cars, rejected the preliminary report and wrote to Mnangagwa, saying it must be discarded and be redone, while the nation proceeded to elections under the 2008 boundaries.
"Matters came to a head, reached a crisis point, when Mnangagwa did not gazette the final report which he was given on 3 February on 17 February as expected. So he missed the deadline. On Monday, crisis meetings were held and Mnangagwa indicated that he felt
Chigumba was no longer working with him due to her resistance and insistence on the constitutional path.
"One of the meetings between Mnangagwa, Chigumba, Ziyambi, Mabhiza and Moyo was reportedly tense and uncomfortable. Mnangagwa was unhappy with Chigumba, and so was she. Chigumba however maintained a dignified posture of a judge, explaining things in terms of the law, and eventually Mnangagwa conceded to have the report published that very same day.
"After meeting Mnangagwa, Chigumba, Ziyambi, Mabhiza and Moyo met with Chiwenga to deal with Zec infighting as the President had asked his deputy to resolve the problem within two weeks. Clashes over delimitation almost exploded, but the situation was contained. Yet hostilities and tensions still linger on."
Chiwenga asked the Chigumba and Mabhiza factions to bury the hatchet during their meeting, but they resorted to accusations and counter-accusations. This showed him he has his work cut out for him.
Still rattled by the internal ructions, Chigumba reportedly demanded that Ziyambi and Mabhiza should pressure Chidawa – implying he was their proxy – to drop his Constitutional Court application seeking invalidation of the delimitation process.
The case, which the ConCourt recently ruled was not urgent, has been set for 29 March.
Chidawu, in his application supported by two Zec commissioners Catherine Mpofu and Shepherd Manhivi, says Parliament acted unconstitutionally by allowing a debate on a report only written by Chigumba and her deputy Rodney Simukai Kiwa, while it was rejected by seven of the nine Zec commissioners.
Zec's commissioners include Chigumba, Kiwa, Mpofu, Manhivi, Jasper Mangwana, Abigail Millicent Mohadi-Ambrose, Jane Mbetu Nzvenga, Kudzai Shava and Rosewita Murutare.
By standing firm and threatening to resign unless the plot to change her final report or allow it be overtaken by events beyond 26 February, Chigumba held her nerve and showed fortitude, but still the damage had been done as Mnangagwa had already missed the 17 February deadline, violating procedural due process and subverting the constitution.
Besides, Chigumba is still facing internal upheaval and unrest by the majority of commissioners who said she wrote the report with Kiwa – and some say with the CIO involvement as well – and wanted it abandoned.
This has left Zec deeply divided, fragmented and almost dysfunctional ahead of crucial general elections, raising the spectre of the chaos which engulfed Kenya's Independent Electoral and Boundaries Commission during its polls in August last year.
The Kenyan electoral body was divided over declaring President William Ruto as the winner ahead of his rival opposition veteran Raila Odinga. Some commissioners resigned over that dispute as others had previously done so in 2017.
Post published in:
Featured