Cara Koenen of Australia during the Netball World Cup win over Zimbabwe in Cape Town. Photograph: Gallo Images/Getty Images
Australia, looking to wrest back the title taken by their rivals in 2019, scored a convincing 86-30 win over Zimbabwe. The Gems were expected to pose a challenge having broken through at the last World Cup, and so it proved in the opening exchanges as they were energised by the shouts and songs of their supporters.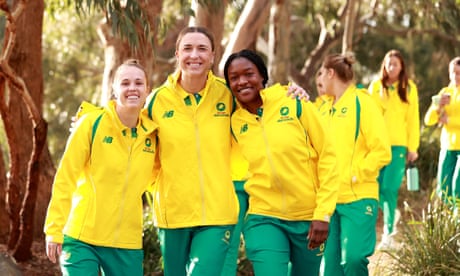 Soaking up the intensity of the frenetic start, the Diamonds, however, found their rhythm. A string of 11 unanswered goals in the second quarter, engineered primarily by goal keeper Courtney Bruce who produced four intercepts and five deflections, staved off a hungry Zimbabwe and enabled Australia to take a comfortable a 42-18 lead.
Wholesale change defined the second half with all 12 of Stacey Marinkovich's squad taking to the court. With only 20 days between the end of Australia's Super Netball league and the World Cup, the strength of the connections between players had been questioned and some were clearly better than others in this opener. Marinkovich admitted they needed time to come together.
"We definitely need to build our combinations and we've been working through that at training," the Australia head coach said. "Yes, I want to keep them balanced so that we're ramping up and peaking at the right time but we also need to be able to sustain performance over multiple quarters so it was good to be able to put two lineups [out] and it adds accountability. You clear the score and make sure you're holding accountability in each of those quarters."
Buoyed up by a horde of travelling fans, New Zealand stamped their authority early and ruthlessly in their opener against Trinidad and Tobago, eventually securing a 76-27 win. Sticking to their brand, the Silver Ferns began by deploying their full-court zone to menacing perfection, cutting off the Calypso Girls who struggled to find a way through the forest of silver. A 23-2 lead at the end of the quarter was apt reward for New Zealand's defensive efforts.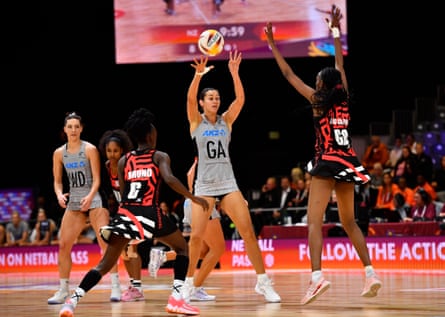 Returning from the half-time break 43-11 up, the Ferns were met by a more inspired opponent. Trinidad and Tobago found more avenues around New Zealand causing a slip of the guard – something Noeline Taurua noted in her assessment afterwards.
"I was happy with the start, I thought we were quite dominant," said the New Zealand head coach. "There were some elements we've been working [on] and I could see that out on court. As the game progressed we pulled ourselves apart, or the opposition did, and we became reactive."
While there is still room for improvement, the champions dominated and perhaps the most ominous feature was the entry of 1.92m goal keeper Kelly Jury at wing defence as Taurua showed a glimpse of her hand going forward.
Post published in:
Featured