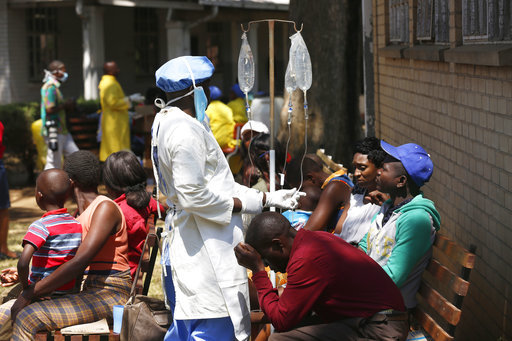 Story by Memory Chamisa
The assessment tour in Kuwadzana suburb of Harare by Government and health officials has seen the private sector coming on board to proffer solutions and mitigatory measures in curbing the cholera outbreak.
Local Health service Provider CIMAS has handed over medical supplies that include Aqua tablets, drips, salt and sugar solution sachets, worth 50 thousand United States dollars to Kuwadzana Poly Clinic.
"We are grateful for the gesture, Kuwadzana has been on the receiving end the past years with no water supply, and inconsistent refuse collection.
"The government came this week and saw the situation we have at hand and we are happy they came back again with medication that is going to ease the burden and treatment of cholera," said locals who spoke to ZBCNews.
CIMAS Chief Executive Officer Mr Vulindlela Ndlovu spoke on the importance of the corporate sector in supporting the government in times of need.
"CIMAS has been following cholera cases in Harare and we felt we should take part in raising awareness on cholera. If not contained the disease is a threat to public health. Delivery and timely provision of services to the public is important and we will continue to assist the government in ensuring its citizenry and healthy and health centres are strengthened," he said.
Minister of Health and Child Care Dr Douglas Mombeshora applauded the initiative saying more partners are needed to guarantee the safety of the citizenry.
"Seven deaths have been recorded in Kuwadzana since the outbreak, 46 districts out of 56 have also recorded cholera cases in the country. In Harare, 40 percent of the cases are coming from Kuwadzana which has also recorded eight deaths.
"We need to contain cholera here in Kuwadzana to avert a national crisis. We came here last week Tuesday and the situation showed that the city council had failed residents, from non-refuse collection, unsafe water sources and there is no constant water supply and lack of information on how it is spread.
"I discourage you from these open gardens that you have as they are watered using sewer from burst pipes which is unhealthy," said the Minister.
Kuwadzana suburb is one of the areas that have been on the receiving end of poor service delivery by opposition-led urban councils.
Post published in:
Featured