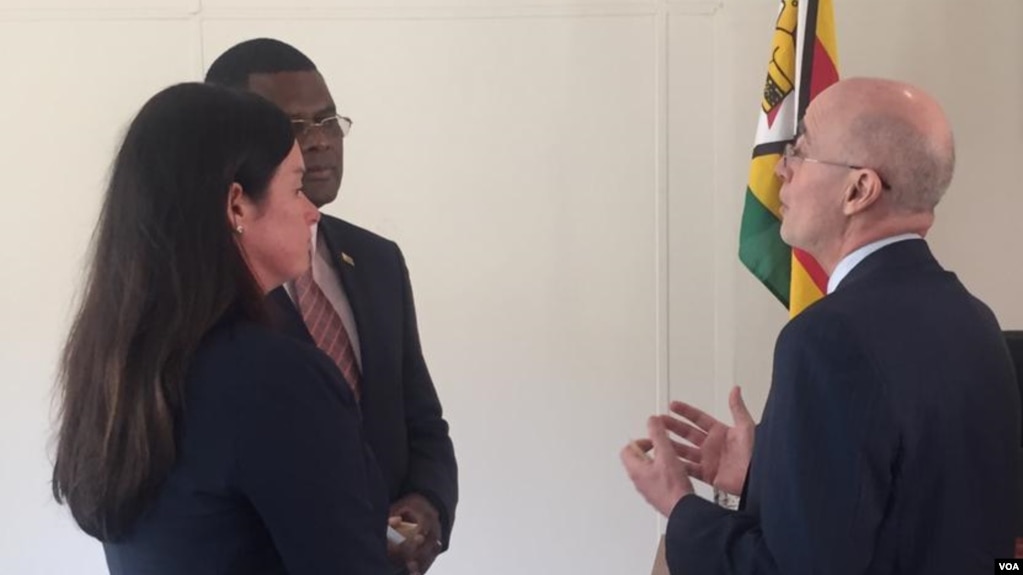 Speaking to journalists in Harare, Robert Scott, the United States Deputy Assistant Secretary in the Bureau of African Affairs, also expressed his country's reservations of the Private Voluntary Organization Bill, which would cripple many non-governmental organizations if it is passed into by President Emmerson Mnangagwa.
"Specifically here obviously in front of everybody's minds currently is the elections in Zimbabwe. Our embassy is also looking at them and we will support institutions that will make the elections successful. We do not support politicians, we do not support parties. We support institutions and processes and so I'm partly here to talk and indeed I did speak with the Minister of Foreign Affairs, with the Minister of Justice, with other government representatives."
Scott noted that the United States in concerned about the PVO Bill.
"We had a meeting yesterday, covering also the election process, covering the PVO Bill (Private Voluntary Organizations Bill), in which we shared some of the concerns that have been expressed by others and I also expressed our thinking about the PVO Bill."
Observers say the PVO Bill, if passed into law, will give the government power to dissolve non-governmental organizations.
Scott further said his country is also part of the efforts being made by the African Development Bank (AFDB) to find ways in which Zimbabwe can start getting loans from financial institutions like the International Monetary Fund, Paris Club, World Bank and others.
"Our embassy here is participating in the current AFDB debt arrears process which is potentially a very powerful tool for the government to engage and is also a powerful too for civil society and other organizations to be pulled into a process which will be fundamental and important for the economy of this country to re-engage, reopen to international lending. It will basically create space for businesses and investors to come in. It's a very positive potential and it's very important to have a broader selection of this actor of this country as possible engaged in this process.
He prased the AFDB for coming up with the proposed debt process.
"It also happens that many of the goals of the AFDB process are also the goals of the United States in engagement in this country … The opening of political space, the creation of the economy that has many options so that the people of this country benefit is something that we join in as far as U.S. government goes."
He said there is need for a free press in Zimbabwe as the country inches close to a crucial election.
"… It needs participation by citizens, civic society organizations that come together to bring people to express their views and interests. And we certainly support that as well."
He futher noted that "the mechanics of an election are important … Observation, to ensure that the people go to the polls, represent and observe the polls and report back to their fellow citizens about how the polling went. We certainly support that."
Scott was on a four-day official visit to Zimbabwe, a few days after Jill Biden, the wife of President Joe Biden, visited Namibia and Kenya.
The United States and its allies imposed targeted sanctions on some Zanu PF officials and companies over alleged human rights abuses and election rigging.
The U.S. extended the sanctions this week.
VOA Correspondent Rutendo Mawere contributed to this article
Post published in:
Featured